How to Go Green? Look to D.C.'s Ledroit Park
What a church, a farm, and the Prince of Wales have to do with the exemplary greening of a historically African-American neighborhood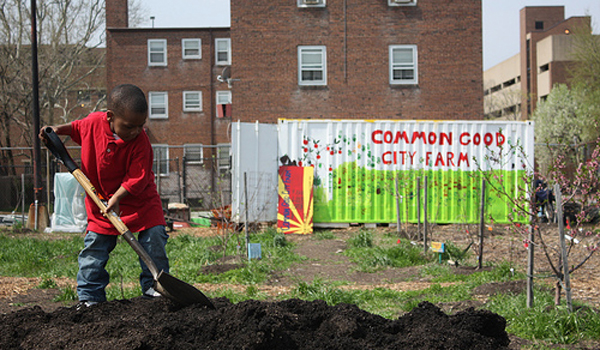 Washington, D.C.'s
historic
, traditionally African-American neighborhood of
LeDroit Park
has quietly become an incubator for exemplary urban green practices.
Located a little over a mile north of downtown D.C. and bordering Howard University, LeDroit Park was once a planned, architecturally unified, and carefully landscaped suburb carved out of rural land. Founded in the second half of the nineteenth century, it has been home to a number of prominent African Americans, including such luminaries as Ralph Bunche (United Nations leader), Edward Brooke (U.S. Senator, Massachusetts), Mary Church Terrell (a co-founder of the NAACP), and Walter Washington (D.C.'s first mayor). The neighborhood features several prominent murals and an African-American Heritage Trail.
And it is getting greener, both environmentally and literally.
For starters, the roof of the 99-year-old Florida Avenue Baptist Church, home to a 500-member congregation, now sports 44 recently installed solar panels, whose renewable energy generation is expected to reduce the church's electric bill by 15 percent. According to a story written by Darryl Fears and published recently in The Washington Post, 12 members of the congregation invested in a venture that paid for the purchase and installation of the panels, assisted by a federal renewable energy tax credit.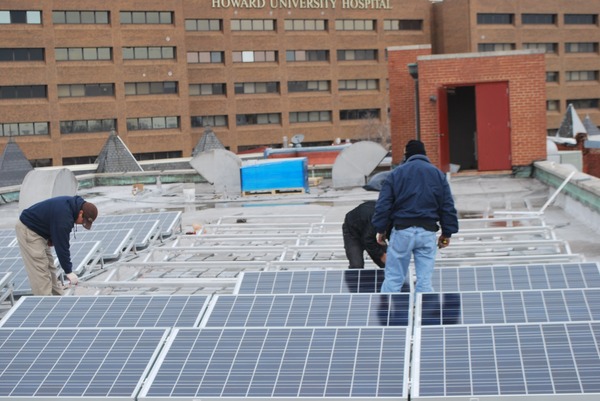 Fears reports that the idea to go solar came to Pastor Earl D. Trent through Gilbert Campbell III, a co-owner of
Volt Energy
, a North Carolina clean-energy company with an office in Washington. (Campbell is a Howard University graduate who had met Trent years earlier through his father, also a pastor.) In addition to installation, Volt Energy customized a green education curriculum for the church, "teaching energy efficiency, recycling, and the how-tos of using energy-efficient light bulbs and reading energy bills to children."
The educational function is significant, given the particular challenges faced by African-American communities when it comes to utility bills. From Fears's article:
African Americans tend to live in older, less energy-efficient homes equipped with older appliances and, therefore, have higher energy bills.

According to Energy Democracy, a 2010 report by the Center for Social Inclusion, African Americans spent an average of $1,439 on electric bills in 2008, more than what Latino and Asian Americans spent, and significantly higher than what white Americans paid.

"We want to be a model for green energy," Trent said in an earlier interview. "I've gotten calls from pastors who want to find out how they can do this," he added, raising his hope that the renewable-energy divide can be bridged.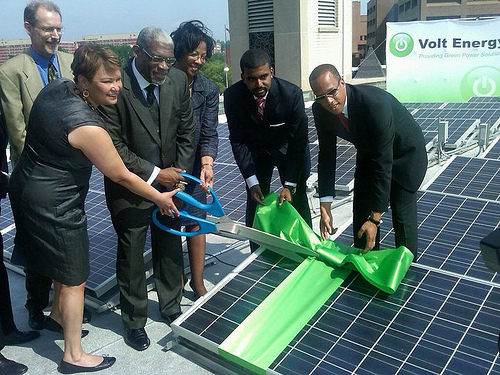 In
an article
written by Mike Conneen and posted on the local TBD blog, Trent added that environmental stewardship is a core part of Rev. Trent's faith: "As Christians we honor God by taking care of the gift of his earth. We don't have another earth, he's not making another one, so we've got to take care of the one he's given us."
EPA Administrator Lisa Jackson, D.C. Department of Environment director Christophe Tulou, and other officials joined pastor Trent in a ceremony (photo) commemorating the occasion.
Meanwhile, just a few blocks away in another part of the neighborhood, the city government has been working with LeDroit Park residents to establish a multi-purpose park on the site of a (sadly) now-defunct elementary school. While the park will feature ornamental gardens, playgrounds, sports fields, and a dog park, its most interesting component is the already-established Common Good City Farm.
In evolution for four years, Common Good has a most commendable purpose:
Our Mission is to grow food, educate, and help low-income DC community members meet their food needs. Our Vision is to serve as a replicable model of a community-based urban food system.

Common Good City Farm's programs provide hands-on training in food production, healthy eating and environmental sustainability. The Farm itself serves as a demonstration site to individuals, organizations and government agencies in the DC Metro area. The site and our programs integrate people of all ages, classes and races to create vibrant and safe communities.

All you need to do is to look at the photos to see that the half-acre farm is an immense success. According to the project's website, since January 2007 the farm has provided over 400 bags of fresh produce to low-income D.C. families, taught over 1,000 D.C. residents in workshops, engaged over 1,500 D.C. school children, and hosted over 2,000 volunteers. Not bad. And it just gets better for the neighborhood: The site plan for the park in which the enterprise sits shows locations for carshare and bikeshare vehicles, just a few steps away from the farm.
Initially, the farm was operated on a site closer to the Florida Avenue Baptist Church, where it had inherited an operation started by the Shaw EcoVillage and the organization Bread for the City, which I featured in another recent post. When plans for the new park were announced, Common Good moved to its current site.
As a result of all this success, this neighborhood that has bred so many distinguished residents throughout its history has now also been commended by genuine royalty. This week, in town to speak at Georgetown University on sustainable agriculture, HRH Charles, the Prince of Wales, stopped by. (I'm a big fan of the Prince's environmental and community work, which is considerable. I wrote about some great examples here and here, and you can read his excellent remarks at Georgetown here.)
What a neat thing for this neighborhood and all the people involved. I hope someone also told him about the solar energy happenings at Florida Avenue Baptist. As you might imagine, photos were taken (see above), and there's also a short video of the event, below:
---
This post also appears on NRDC's Switchboard.
Images (top to bottom): Common Good City Farm, Volt Energy, EPA