Designing Community: Candy Chang's 'Before I Die' Project
An artist uses blackboards and chalk to transform an abandoned New Orleans house into a creative symbol of rebirth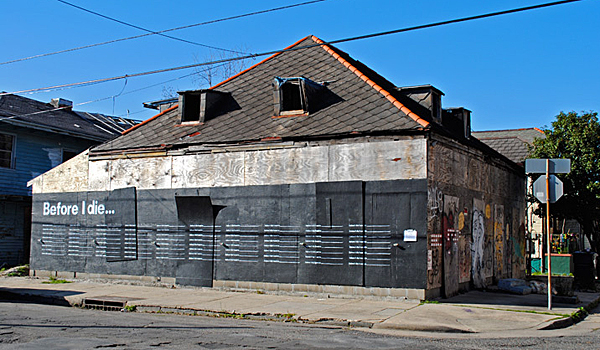 Okay, this is merely one of the most creative community projects ever. In post-Katrina New Orleans, a badly degraded house about a mile or so east of the Tremé district looked like the photo you see below, only without the art. As you can see, it has changed.
Artist Candy Chang had an idea to turn the property into a sort of collective performance-art piece in which all are invited to participate, simply by declaring what is important to them. Chang has provided chalk, a large-scale blackboard, and the necessary permits.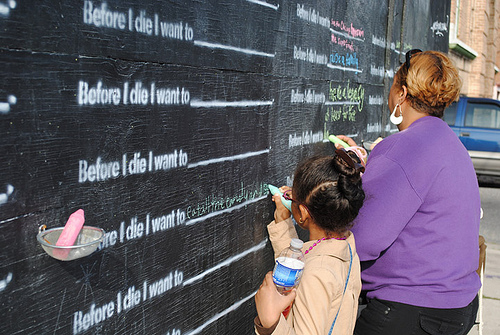 The house has been purchased and will be renovated, but until then it serves as a living testament to community, inclusion, creativity, and purpose.
Chang, who describes herself on her website as "a public installation artist, designer, urban planner, and co-founder of Civic Center who likes to make cities more comfortable for people," lives in the neighborhood. She explains:
With support from old and new friends, I turned the side of an abandoned house in my neighborhood into a giant chalkboard to invite my neighbors to share what is important to them. Before I Die transforms neglected spaces into constructive ones where we can learn the hopes and aspirations of the people around us. This process (including obtaining official approval from many entities) has been a great lesson--more on that later. If you're in New Orleans, stop by the corner of Marigny and Burgundy (900 Marigny Street) to add your thoughts to the wall and discover what matters most to your neighbors. I believe the design of our public spaces can better reflect what's important to us as residents and as human beings. The responses and stories from passersby while we were installing it have already hit me hard in the heart.
The project commenced in February of this year, and has received a tremendous response, the spaces for writing sometimes filling up in as little as one day. When the board fills, it is washed so people can start over.
Chang is working on a kit that will enable the project to be replicated in other communities, starting with another neighborhood in New Orleans.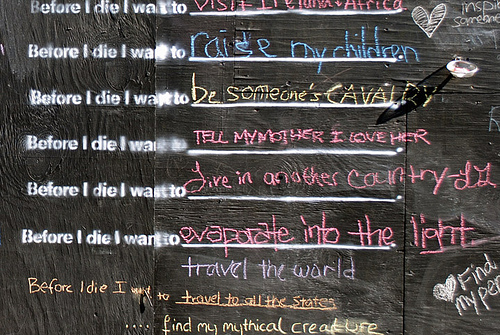 There are many more excellent and fascinating photos on Chang's website, which I urge you to visit. The
site
describes the project as "self-initiated with permission from the property owner, residents of the block, the neighborhood association's blight committee, the Historic District Landmarks Commission, the Arts Council, and the City Planning Commission." Wow.
I'm planning on stopping by and perhaps chalking up a few words of my own. Big-time props to the artist for a great concept, very well executed.
---
This post also appears on NRDC's Switchboard.
Images: Candy Chang