Cory Lidle Plane Crash: The Jury Speaks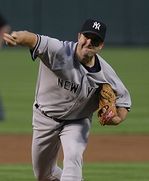 In the fall of 2006, just after the Detroit Tigers eliminated the New York Yankees from post-season play, Yankee pitcher Cory Lidle (right, from
Wikipedia
) died in a tragic and spectacular plane crash. Lidle, who was a brand new pilot, and his flight instructor were both killed when their small Cirrus SR-20 airplane smashed into a building on the Upper East Side of Manhattan. For obvious reasons, there was panic in the immediate aftermath of the crash. Had the long-feared next wave of airborne terrorist attacks finally begun?
It wasn't that -- just a terrible accident -- but still it was bad enough, with many people injured on the ground apart from the two families suddenly left without husbands and fathers. I was in China by then, but since I'd spent years flying the same kind of plane as Lidle's, I wrote several explanatory items just after the crash. The first was about the knowns and unknowns of the crash -- and whether it was probably a terrorist act (answer: No). The second was about the very unusual place where the accident occurred: an aerial "box canyon," in which pilots had to execute a very steep U-turn to stay out of controlled airspace. The third went further into that "box canyon" airspace issue.
A few months later, the families of Lidle and the flight instructor, Tyler Stanger, sued the manufacturer of the airplane, Cirrus Design (now Cirrus Aircraft, and soon to be Chinese-owned), saying that the plane's defects had caused the crash. They asked more than $40 million in damages. I'm no lawyer, but I indicated my sympathy for the families but skepticism about the claim here and here. The NTSB, in its final report on the accident, found that there was nothing wrong with the airplane and that, tragically, "The pilots placed themselves in a precarious situation that could have been prevented by better judgment and planning." The NTSB also produced a dramatic animated graphic, showing the difficulty of making the "box canyon" turn. Airspace rules have been changed since the crash to make it harder for pilots to get into this predicament.
Yesterday a jury in New York, after three hours of deliberation, ruled against the families, and in favor of Cirrus, in dismissing claims that the airplane or the manufacturer was at fault. There will be appeals, and the families say that the judge kept crucial info from the jury. We'll see. This is a closing-the-loop update. For other comments on the verdict, you can hear from a lawyer-pilot and a sports-fan pilot.
None of this changes the terrible loss for those young families.