Bin Laden's Demise and the War on Liberty
Would prosecuting the terrorist in court have been politically impossible?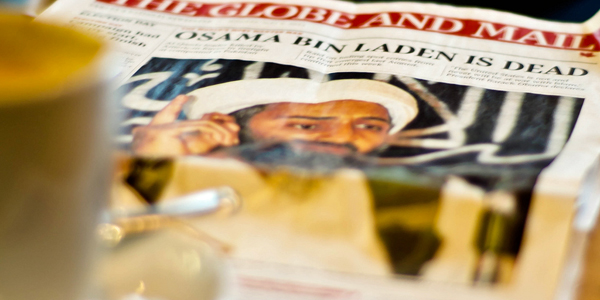 How will Osama bin Laden's assassination affect America's war on civil liberty? I'd like to believe or find reason to hope that it will increase self-confidence and decrease paranoia and that a less fearful populace will be less willing to sacrifice liberty for questionable promises of security. But bravado -- cheers for Team USA -- is not self-confidence, and I expect that bin Laden's killing will serve to vindicate the extra-judicial, post 9/11 shadow security state that will take credit for it. We were quickly told that information obtained from detainees helped locate bin Laden, and only a small minority of civil libertarians will lament that he could not be taken alive and tried, in a real court, with real regard for due process.
Capturing bin Laden alive may have always been a practical impossibility. What's worrisome is how readily it became a political impossibility as well. The success of hysterical opposition to the administration's feeble efforts to close Guantanamo and try Khalid Sheikh Mohammed in criminal court confirmed prevailing preferences for executive branch vigilantism over the rule of law in our treatment of people suspected rightly or wrongly of terrorism. (Files recently released by Wikileaks showing the arbitrariness and incompetence of classification systems at Guantanamo are already old news and seemed destined to have little if any discernible effect on public opinion.) "Justice has been done," the president proclaimed, but my ideal of justice is judicial. I won't be saying Kaddish for bin Laden, but neither will I be celebrating the necessity of assassinating instead of prosecuting him. That necessity is bin Laden's legacy, and perhaps his greatest achievement.
Image credit: flickr/rommy ghaly