What America Looks Like: Venice Beach, California
Introducing a feature that presents the U.S. as seen by its residents, rather than the typical images shown on postcards or in TV news backdrops. See below to learn how to submit a photograph.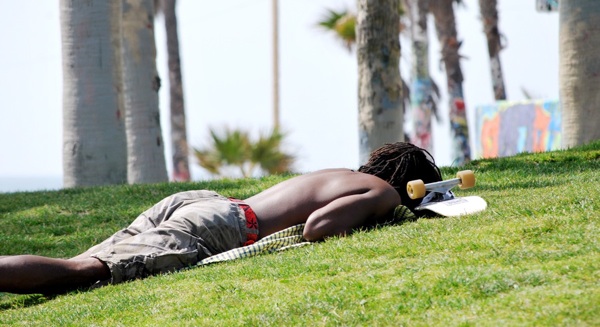 In Venice Beach, California, A man naps on the grassy patch that separates the boardwalk from the sand. Blurred in the background is an area where anyone is permitted to spray paint one of several walls with graffiti. The policy has spread to neighboring palm trees. This is the first entry in this recurring feature simply because Venice is home for me at the moment. I hope you'll send in a photograph taken near where you live.

Submission guidelines: email photos to whatamericalookslike@gmail.com - doing so affirms that you hold all rights to the submission, and grants us permission to publish your photo at TheAtlantic.com and in any future collection of What America Looks Like photographs. Be sure to include the city and state where the image is taken, and as detailed a description as you're willing to offer. Also let us know if you've got a photo Web site or if prints of your shot are available for purchase. 

Photo credit: image by Conor Friedersdorf.