Washington, D.C.: Making Bike Commutes Cool
How a stylish, convenient bikeshare program catapulted the District into the ranks of America's elite biking cities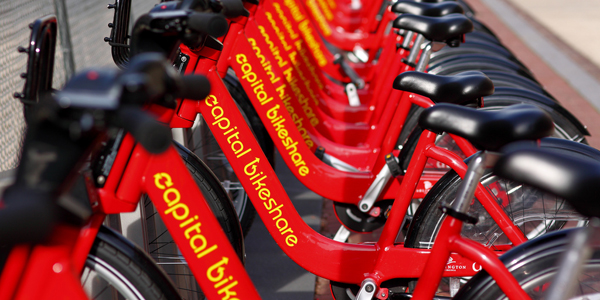 Capital Bikeshare
, the wildly popular bikesharing program in Washington, D.C., now claims to have nearly 11,000 members and 1,100 bikes in circulation from "over 110" self-service stations placed strategically around the city and Arlington, Virginia. (There's a certain binary quality and similarity to those numbers, no?)
According to an article written by Ashley Halsey III and published over the weekend in The Washington Post, "more than 300,000 rides have been logged since the program launched September 20, and people were using the bikes an average of 3,000 times a day in mid-April." No wonder I seem to see them everywhere. The program's web site says that one can join for 24 hours, five days, 30 days, or a year, and have access to the bikes 24 hours a day, 365 days a year.
The popularity of the program is due to the attractiveness of the sturdy red bikes--every distinctive Capital Bikeshare vehicle on the street is a rolling advertisement for the program--and its incredible convenience. The system is very easy to use, and riders may pick up a bike at any station and drop it off at any station, perfect for short, one-way trips. The first 30 minutes of each trip are free, making a year's membership a bargain for $75 if one uses the bikes for in-city commuting and errands. Each additional 30 minutes incurs an additional fee.
The world's best known bikeshare system is the Velib' (for Velo Libre) program in Paris, which the writer Aurash Khawarzad says now has over 17,000 bicycles and 1,200 stations. I certainly saw evidence of its popularity last time I was there, with Velib' riders seemingly on every block. Khawarzad reports that Barcelona, Stockholm, Lyon, Helsinki, and London also have large programs in Europe and that Denver and Montreal are the other (besides Washington) leaders in North America. Boston, New York, and Chicago are apparently planning or implementing systems with several thousand bikes each.
In D.C., the system has become so popular that stations can run out of bikes during rush hours. Halsey writes:


The Capital Bikeshare program now knows its own rush hours--coinciding, not surprisingly, with everybody else's rush hour. At its peak, bikes are rapidly snapped up from docking stations in neighborhoods dense with younger people--Capitol Hill, Dupont Circle, Columbia Heights, and the U Street corridor.

Trucks from Alta Bicycle Share, the contractor that runs the program, buzz around to the downtown office buildings where the bikes end up, collecting them and rushing them back to neighborhoods for the next wave of commuters.
This video from Capital Bikeshare shows how easy the system is to use:
---
This post also appears on NRDC's Switchboard.
Image: Mr. T in DC/flickr