Tornado Town: Tuscaloosa, Alabama
In a season of intense storms, a mile-wide twister has just consumed much of one Southern town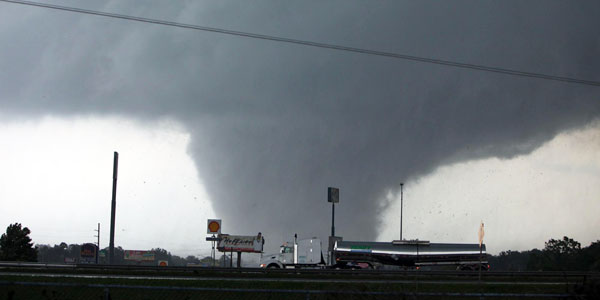 We frequently call my Alabama hometown, about an hour south of Birmingham, "T-Town," clipping down its four syllables to something more manageable with a slow-going southern drawl.
T-town is known for being the main campus of the stately University of Alabama and its Crimson Tide. Suffice it to say, it's one of the better Southern college towns. Last night I came home to hear that a large swath of my hometown had just been eaten away by a mile-wide tornado, and after confirming that my family was okay, I tuned in to a reassuring voice: local meteorologist James Spann, the same man who told my family on more than a few stormy nights when it was time to run to the basement. Although sitting in my Boston living room and watching James on UStream gave me a better sense of connection to the events at home, the viral videos that started circulating last night don't offer any reassurance. They'll raise your heart rate no matter how far you live from Tornado Alley. Maybe you've never heard of my hometown before, and won't recognize University Mall, or the intersection of McFarland Boulevard and 15th Street. I suspect for many of you viewing these videos, T-Town now means Tornado Town.
In the first video, the tornado is seen passing alongside the University of Alabama's Bryant Denny stadium, which is more saliently several blocks to the left of my mother's house. I experienced about 30 minutes of anxiety after watching that video before she called me back last night, shaken but well. The videos below only get more intense from there:
Image credit: A tornado moves through Tuscaloosa, Alabama Wednesday, April 27, 2011. A wave of severe storms laced with tornadoes strafed the South on Wednesday, killing at least 16 people around the region and splintering buildings across swaths of an Alabama university town. AP/The Tuscaloosa News, Dusty Compton.
>