The Sweet Song of Scalia Gains Another Verse
The quotable justice explores the difference between being sued by a brother and sued by a stranger in an instant-classic footnote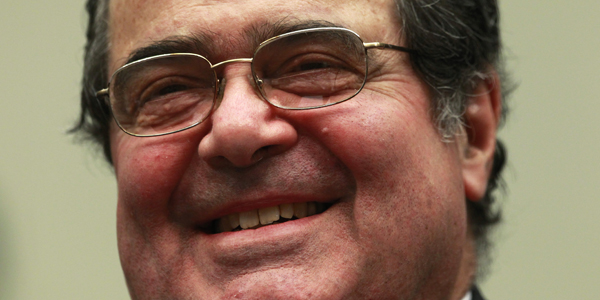 The United States Supreme Court Tuesday morning issued a decision that likely won't generate a lot of media coverage. In a 6-2 vote, the Court (with Justice Elena Kagan once again recused) allowed one state agency to sue officials from another state agency in federal court over an investigation into patient deaths and injuries at a state mental hospital. The case is captioned Virginia Office for Protection and Advocacy v. Stewart.
Justice Antonin Scalia wrote the majority opinion. Chief Justice John Roberts wrote the dissent (on behalf of himself and Justice Samuel Alito). This sort of intra-conservative split is rare on the Court but the occasion did not preclude Justice Scalia from offering up one of his familiar footnote gems. Ladies and gentlemen, I give you Footnote 4:
The dissent compares VOPA's [Tuesday's victor] lawsuit to such indignities as "cannibalism" and "patricide," since it is a greater "affront to someone's dignity to be sued by a brother than to be sued by a stranger." We think the dissent's principle of familiar affront less than universally applicable, even with respect to real families, never mind governmental siblings. Most of us would probably prefer contesting a testamentary disposition with a relative to contesting it with a stranger. And confining one's child to his room is called grounding, while confining a stranger's child is called kidnapping. Jurisdiction over this case does not depend on which is the most apt comparison.
An instant classic, no?
Image credit: Reuters/Kevin Lamarque