Say It Ain't So, Sheriff Joe
From the you can't make this up files: The colorful law-and-order Maricopa County sheriff is now accused of cooking the books and stiffing Arizona prisoners to the tune of $99.5 million.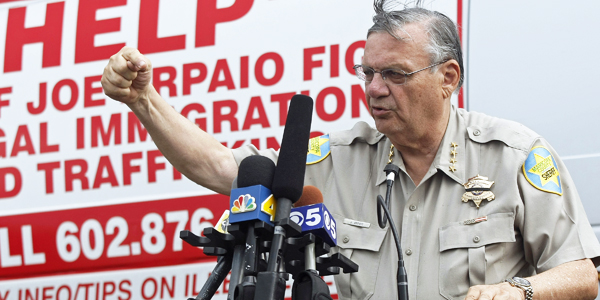 Now we know how Maricopa County Sheriff Joe Arpaio staged all those high-profile, made-for-cable-television immigration raids and prisoner gimmicks in Arizona over the years -- his office was cooking the books to the tune of $99.5 million, reports the Arizona Republic. The figure was approximately $30 million more than was estimated by investigating authorities in September when last we left the saga of this national figure with the local law enforcement job.
It's easy being the "toughest sheriff in America" when you are taking money from the wrong budget, right? "Sheriff Joe," whose political heroes include Sarah Palin (he gave her a pair of pink panties, he said), reportedly was paying the salaries of law enforcement personnel out of budgets designed for prisoners and jails. And he signed annual statements in which he swore that budgets were balanced when in fact they were not, local officials said. But Sheriff Joe wasn't present when this rather startling news was provided to the public. He was reportedly on an immigration raid at a dry cleaners.
If it weren't true, this story by now would have been made into a movie. The colorful tough-on-crime sheriff who makes a name for himself by treating prisoners like animals ultimately gets in big trouble for wrongfully administering the prisoners' budget. Where's Cool Hand Luke when we really need him? And precisely who in Arizona now is going to ensure that the "detention" budget for those prisoners, who of course don't have lobbyists or any other political patrons, gets refunded in full? It will be left to the courts, of course, whose judges will naturally be pilloried by Arpaio's supporters.
"I don't think this was all an unfortunate mistake, but I think those people will be dealt with if there was intentional misconduct," said County Supervisor Andy Kunasek. Fair enough, Let's assume for the moment that misfeasance -- and not malfeasance -- accounts for the financial mess Maricopa County finds itself in today. And let's further stipulate that county officials share their measure of blame for the budget shortfall for not figuring it all out sooner. The story still has a Capone-convicted-of-tax-evasion feel to it. Here's the law-and-order man eerily sure of the righteousness of his views being punched to the ropes by accounting that should have been routine.
Local officials promptly sent their findings to the Justice Department, which has its own colorable concerns about Sheriff Joe. The feds last year sued him for his failure to respond to their inquiries about his treatment of immigrants and other prisoners. And the 9th U.S. Circuit Court of Appeals already has ruled that he was depriving pre-trial detainees of their civil rights. The financial disaster in Maricopa County surely will not chill the ardor of federal officials as they pursue their investigation of Sheriff Joe's methods. But in a perfect world they will mute the objections of Arpaio's defenders who say he's just a poor, local sheriff being picked on by the feds.
Image credit: Reuters/Rick Scuteri