Indian Company Ends Sale of Lethal-Injection Drug to the U.S.
Kayem had sold sodium thiopental to America until this week—when the company's managing director learned of the anesthetic's death-row purpose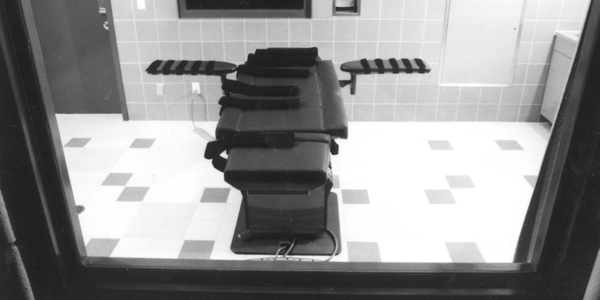 The controversy over lethal injection as a method of execution escalated today when a pharmaceutical company in India announced that it would no longer supply a crucial drug to death-penalty states.
The company's decision was a major victory for opponents of the death penalty in the U.S., which had lobbied the company and Indian authorities, and leaves capital-punishment states and the federal government with no immediate supplier of the drug, sodium thiopental, an anesthetic.
The Indian company, Kayem, has already sold thiopental to Nebraska and South Dakota, and had been approached by 13 other states to buy it, the company's managing director, Navneet Verma said in a telephone interview from Mumbai, where the company is located.
Earlier today, the company announced on its website that it would no longer sell the drug for lethal-injection purposes:
In view of the sensitivity involved with sale of our Thiopental Sodium to various Jails/Prisons in USA and as alleged to be used for the purpose of Lethal Injection, we voluntary declare that we as Indian Pharma Dealer who cherish the Ethos of Hinduism ( A believer even in non-livings as the creation of God) refrain ourselves in selling this drug where the purpose is purely for Lethal Injection and its misuse.
Mr. Verma said in the telephone interview he had not been aware that the drug was being used for executions until he received a letter from Clive Stafford Smith, director of Reprieve, a British human rights organization that has been at the forefront of an effort to block companies from selling sodium thiopental for execution purposes.
Mr. Stafford Smith wrote, in February, that perhaps in making the sales Kayem, a wholesaler, had believed the drugs were going to be used "only to help treat prisoners not to kill them." If that were the case, Mr. Stafford Smith suggested that Kayem might want to join other pharmaceutical companies that "have made very strong statements condemning the use of life-saving drugs in the killing of prisoners."
Yesterday, Indian authorities visited Kayem's offices in Mumbai, and took records pertaining to sales of sodium thiopental, Mr. Verma said in the telephone interview. With that, he had decided it was time to cease sales to American prison authorities.
Mr. Verma said that he had sold the drug to Nebraska, in December, for $3.50 a vial. (The cost to him is $1.00 a vial, he said.) Three months later, in selling to South Dakota, he jacked up the price to $10.00 a vial. He said he had done this to make the cost prohibitive so that states wouldn't buy it for executions.
(He said that he also sold sodium thiopental to the ministry of defense in Angola, for about $2.00 a vial. He assumes they are using it as an anesthetic when operating on wounded soldiers.)
In light of today's action by Kayem, it is not clear where states will get sodium thiopental, which is the first of three drugs administered to the condemned man after he is strapped on the gurney. The only American company, Hospira, ceased production last year after experiencing manufacturing problems. Italian and British companies have been barred from exporting the drug for execution purposes by their respective governments. The European Union bans capital punishment, and the Austrian and German governments have told Reprieve that they will not allow companies to export thiopental to the U.S. for use in executions.
Without a reliable supply of thiopental, states are turning to an alternative drug: pentobarbital. It can be used as an anesthetic or as a single death-inducing drug in lieu of the three-drug cocktail.
Lawyers for death-row inmates, and death penalty opponents more generally, have launched a campaign against its use. Pentobarbital is used for putting animals to sleep, they note, and even then, states place restrictions on how veterinarians may use it.
At the moment, the only supplier of pentobarbital for executions is a company in Denmark, Lundbeck, and anti-death penalty activists have launched an aggressive campaign to persuade the company to cease exports, as Kayem now has of thiopental.

Image: Reuters/HO Old