Warren Christopher, 1925-2011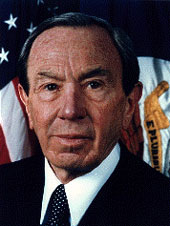 By James Fallows

Let me break into the sequence of guest voices here to express sadness at news that Warren Christopher has just died, at age 85.
He is best known as the first Secretary of State during the Clinton Administration, and his public image was of a very careful, even colorless person. I had a much more vivid and warmly positive impression of him. Even when I was a child he was a well-known figure in my home town, because he had attended the local college, the University of Redlands, under the Navy's V-12 program, before wartime service and transferring to USC to finish college. He had gone on to Stanford Law School and a Supreme Court clerkship for Justice William O. Douglas,  before becoming a prominent California legal and political figure by the mid-1960s. He kept up contacts in our little town, including with my dad, who was an exact contemporary and had become a Navy doctor through the V-12 program in Pennsylvania before moving west.
During the last two years of the LBJ Administration, when 39-year-old Ramsey Clark became Attorney General, Warren Christopher, just slightly older, was his Deputy. That was the era when the Justice Department was still generally seen as a "progressive" force in domestic affairs, as the enforcement arm of desegregation and civil-rights rulings. I always understood that Warren Christopher played a large part in that effort. Shortly before LBJ left office, Christopher came to speak at Harvard and also met with mainly suspicious and hostile staffers on the student newspaper, including me. In those days anyone from the Administration could expect to be shouted down about Vietnam policy, and Christopher was. But then he patiently made the case for the historic importance of LBJ's efforts to address poverty and racial injustices. It was an illustration of how his temperament, sometimes criticized in his SecState years as phlegmatic or dull, could also be seen as unflappable and determined. Not coincidentally, he was a Depression-era kid from a tiny settlement in North Dakota. (The portrait below, by Ann Linton Hodge, was commissioned by North Dakota on the occasion of his receiving the state's "Rough Rider Award.") At several points Christopher and Richard Holbrooke both worked in the State Department, with Christopher higher up in the organization chart. Each had influence, from just about opposite extremes in personality type.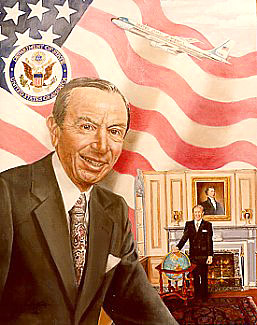 Christopher did other stoic things. He was Deputy Secretary of State during the Carter Administration. In that role, he was sent to bring the bad news to Taiwan that the United States no longer considered it a real country, as part of the historic "normalization" of relations with mainland China. One official U.S. account of Christopher's motorcade into Taipei in 1978 describes it thus:

>>The motorcade, en route from the airport to the Grand Hotel, was surrounded by a mob of young people who assaulted the cars. Described in the press as "the most violent youth outburst ever experienced here," the youths pasted mud, splashed paint, threw eggs, placed national flags on the limousines, stepped on the roofs and hoods of the cars, and broke the glass in several [cars]... Deputy Secretary Christopher was in a car with Ambassador Unger; they finally got to the Ambassador's residence. There were no personal injuries except some cuts from the breaking glass.<<

This was the kind of thing that made me consider him "strong" rather than "dull." After the rioting in Los Angeles following the Rodney King case, he led the "Christopher Commission," which found that "significant numbers" of LAPD officials routinely used excessive violence against civilians, especially non-whites. He was the head of Bill Clinton's presidential transition team, the chairman of various boards (including Stanford's), and overall a civic presence. He was a good, modest, wryly humorous, public-spirited and public-minded man, who should be remembered.