Three Notes on Transition (From Your Host)
By James Fallows
I am mainly leaving things to another worthy complement of guests this week but would feel bad not at least to note three transitions in the past 24 hours. These are quite dissimilar in nature and gravity -- one death, two business changes -- but each is an event I wanted to mention: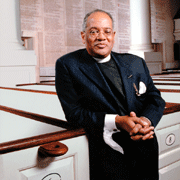 1) Peter Gomes, who for decades was the most visible religious figure at Harvard, and a public intellectual and public spiritual leader on a much broader stage, has died after a stroke, at age 68. He was generous, good-humored, engaged and engaging, a skillful and influential writer and wonderful speaker. He possessed a combination of wit and kindness not often found in the same person. Several news accounts have said that many people were "surprised" when he came out as gay 20 years ago. I'm not so sure about that, but I think many people rejoiced in the extra element of openness and comfort this added to his public life and his writing and preaching. He left many communities much richer for his presence and involvement.
2) Andrew Sullivan announced that after four-plus years he will be leaving the Atlantic for the Daily Beast/Newsweek. I've been proud to have him as a colleague, am sorry he's leaving, and wish him well in the new berth.
3) The Cirrus aircraft company of Duluth, MN, whose origins I chronicled in my book Free Flight and whose founder (with his brother Dale) and former CEO Alan Klapmeier, was a guest blogger in this very space last week, was sold yesterday to a Chinese aerospace firm. This is a big story, and indeed is part of what I am in China to finish a book about. I bought one of the earliest Cirrus models 11 years ago and have been proud to fly it (and a successor) ever since. The Cirrus SR-22 is now the most popular small propeller plane in the world. There is much more to say about this saga, but for now I merely want to note the event. Out my apartment window in Beijing, I see the headquarters of AVIC, the Aviation Industry Corporation of China that is the parent group of the unit that has bought Cirrus. I'll send a picture at some point. Below, the Cirrus "Vision" jet that Alan Klapmeier dreamed of moving into production and that the company is still trying to develop. I wish all parties well.