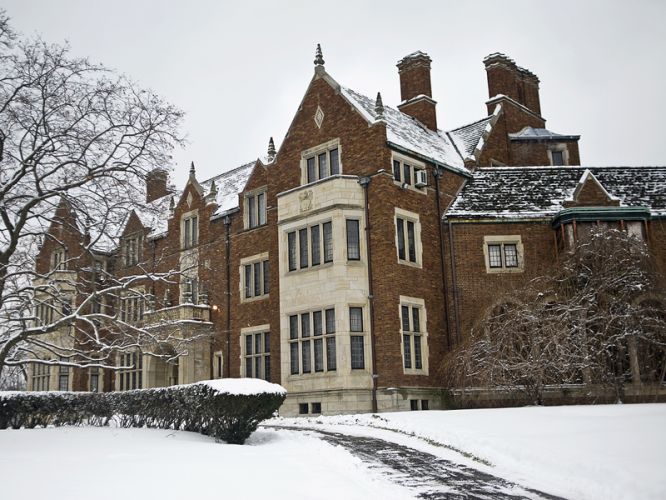 I feel like I worked on this story for ten years. Actually it was about a year and a half. It did not become what I envisioned. But it became something I was proud of nonetheless. I spent quite a bit of time in Detroit, and came to like it quite a bit.
This piece is about Palmer Woods, a really beautiful neighborhood in the Northwest portion of the city, almost at the border (Seven Mile and Woodward, if you know Detroit.) I think this people must have gotten really tired of me. I had so many questions. And I still have questions. But here's an excerpt from the piece:
Established in 1915, Palmer Woods was envisioned as a primeval retreat from a teeming, industrial metropolis. The developer, Charles Burton, advertised it as "a safeguard from the encroachments of commercialism," a paradise nestled in the city's hinterlands. Its homes were built after the fashion of European aristocrats--châteaus with large libraries and secret passages; cottages of ashlar masonry, brick, and stucco; servants' quarters with separate stairwells. 




The lords of Palmer Woods vacationed in Europe, golfed at the Detroit Golf Club, and, excepting the live-in help, excluded blacks: "Said lots shall not be sold or leased to or occupied by any person or persons other than of the Caucasian race," read the Palmer Woods housing covenant, "but this shall not be interpreted to exclude occupancy by persons other than of the Caucasian race when such occupancy is incidental to their employment on the premises." 




When restrictive covenants were ruled unconstitutional in 1948, black families began moving in, infusing the customs of black America's ancien régime into the ethos of old Detroit money. They pledged their children to Jack and Jill of America, joined the neighborhood association, and held potlucks and barbecues to raise money for local charities and black artists. Many had or went on to illustrious careers: Lamont Dozier was part of the popular Motown songwriting team Holland-Dozier-Holland. Keith Ellison became the first Muslim congressman.
Truth be told, I can't wait to get back to Detroit and report some more. The place is a writer's dream. I don't think I've ever seen more animus between a city and suburb then in the Detroit area. It was actually really bracing, and I'm tempted to say beyond even what you see down South.