Next Up: Blount, Casey, Gollapalli, Peng, and Saigal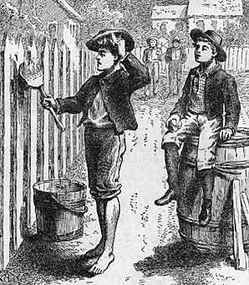 Once again I have the opportunity to say how impressed, grateful, and (to be honest) happily surprised I am by the range and quality of another week's team of guest bloggers. Also, as one of this week's team, Don Brown, accurately observed in a note, I feel increasingly like Tom Sawyer about the
whole thing
, delighted to find so many smart people willing to do such good work. (
Cf
, "Does a boy get a chance to whitewash a fence every day?" In the illustration at right, that's me, lolling on the barrel, while one of the Guest Blog team goes purposefully to his task.) But I digress.
Thanks to Adam Minter for an exceptional seven-part series on what the world of "recycling" looks like, on the other end of the used-can-and-bottle bin, and on who is exploiting whom; to Don Brown for his exceptional series on the realities of air traffic, which I think will leave all travelers thinking differently about their next air trip; to Lucia Pierce for her keen explorations of what one exceptional culture, that of getting into high-end colleges, reveals about two others-- America's and China's. And of course to Deborah Fallows on general (and exceptional) principle and also for talking about large and small aspects of China's changing culture. Thanks to all for painting the fence so well.
Now please welcome:
Keith Blount, who four years ago, as a self-taught programmer, unveiled the (Mac only) Scrivener writing program, and in recent months has put out an even better followup 2.0 version, plus a beta release for Windows. Over the years I have lionized and, when lucky, befriended the creators of "interesting" software, starting with Bill Gross (of Lotus Magellan) and Mitch Kapor (of Lotus Agenda) and continuing through many others, including Tom Davis of Zoot. Several weeks ago, Mark Bernstein, creator of Tinderbox, appeared as a guest here. I have never met Keith Blount, who lives in Cornwall in far western England; but his program is by far the best tool and environment for writing -- as opposed to "document prep" -- the computing world has yet produced. And it costs all of $45. If you think I'm nutty, check out the book writers' testimonial page for the program. More on Blount here, and an early review of Scrivener here. I expect he will talk about what it is like to run a small software house, the endlessly fascinating relationship between software and thinking, etc.
Liam Casey was the central figure of my Atlantic cover story "China Makes, the World Takes" back in 2007. He grew up on a farm in Ireland, worked for a while in the US, and more than a decade ago moved to southern China and put himself in the middle of China's industrial and "outsourcing" dealings with the rest of the world. Since then he has won an "Entrepreneur of the Year" award from Ernst & Young and has spoken at universities and conferences in many countries. You can see him in a recent Bloomberg interview here. I imagine he'll tell us what it is like to be helping design, produce, and ship the products we'll all be buying six months from now.
Sriram Gollapalli is a young computer scientist, trained at Carnegie Mellon (where he is on the alumni advisory board), who has worked for the federal government, large corporations, and for the last few years in a startup technology firm. He is American -- I first met him because he was a high school friend of one of my sons, and they now work together -- but he still has family ties and frequent contact with India, including being married in Hyderabad last summer. I expect he will discuss the culture, challenges, and opportunities of tech startups these days; plus US-Indian interactions; and some of his sporting interests, which range from scuba to cricket.
Grace Peng, who lives in Southern California, is a scientist who has written often and engagingly about the intersection of science, public policy, and personal life. Her academic training is in in mathematics, chemistry, and physics, with a PhD in chemical physics; and her on the job expertise is, as she put it to me, in "satellite meteorology, numerical weather prediction, and geoinformatics." Over the years she has often written about scientific/policy topics I wanted to understand better. She and her husband, also a scientist, both work in what she asked me to describe as as "a Los Angeles area non-profit Federally Funded Research and Development Center (FFRDC) -- and work a second shift raising a highly spirited 10 year old daughter." She will be writing about STEM [science / technology / engineering / math] education and workforce issues, with a focus on the plight of women and mothers, and why she loves math and science. Her own droll site, Bad Mom, Good Mom, is here.
I know Sanjay Saigal through the small-airplane piloting world. We were both participants a decade ago in sr20.org, an early site for enthusiasts of the then-brand-new Cirrus SR20 airplane -- which as it happens was designed by Alan Klapmeier, a previous guest blogger here. His self-introduction: "Sanjay Saigal was born in Patna, India, educated in Delhi and Houston, Texas, and spent much of his career in Silicon Valley. In addition to consulting with companies to improve operating efficiency (his PhD is in Applied Mathematics), Sanjay leads a start-up delivering accelerated management training to working professionals. This effort is based in Delhi, where he loves to drive. While at his first start-up in Reno, Nevada, Sanjay fulfilled a childhood dream by learning to fly." He has a wide range of interests, from tech to politics to aviation to language, and we could well hear about them all.
With gratitude to the team that's leaving, I pass the paintbrush to Sanjay and his colleagues.