By James Fallows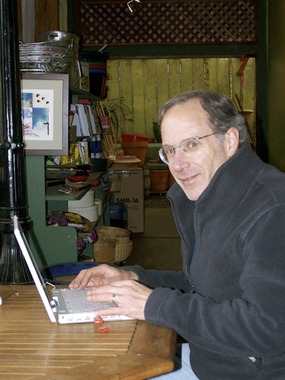 This past week, there was
another
sad loss from American public life. The writer and civic activist Jonathan Rowe, whom I had known from our both having worked for Ralph Nader and at the
Washington Monthly
, died suddenly and unexpectedly last weekend near his home in northern California. He was 65 years old but very active and fit. This is a photo of him at work.
Jon was so modest, gentle, and understated in personal bearing that he was not as well known by the general public as he could have been. But those who knew or worked him were unvarying in their affection and respect, and their sympathies for his wife and eight-year-old son.
Several remarkable testimonials to Jonathan Rowe's personal, intellectual, and civic qualities, and his devotion as a friend, can be read in the moving tributes by David Mitchell (who took the picture)
here
, by David Bollier
here
, by Russ Baker (with extensive samples from Jon's writing and correspondence)
here
, and by Paul Glastris
here
. They convey a sense of why he was both admired and loved. For instance, from Paul Glastris:
"The funny and touching thing about Jon, though, was his almost complete lack of interest in personal glory. I have never worked with someone -- certainly no writer -- more genuinely humble and self-effacing. He was unfailingly kind, with an unmistakable inner light -- he was a man of faith, though he almost never talked about it. He spoke with a gentleness bordering on diffidence, but also with a winning twinkle of humor."

Atlantic readers may remember him as co-author (with Ted Halstead and Clifford Cobb) of a celebrated 1995
cover story
, "If the GDP is Up, Why is America Down?" An archive of some of his other work is
here
and
here
; a sample of one of his recent essays about the distorted nature of modern economic growth is
here
. And a recent piece about him and his views is
here
. Among his many achievements was overcoming a speech impediment to become host of a regular radio show, which I enjoyed listening to and a few times appeared on. 
He will be greatly missed, of course most of all by his wife and young son, with whom his life was rich in all ways except the strictly material. His friend Gary Ruskin is organizing efforts to assist them. For details, you can write him: gary.ruskin at gmail.