'Detroit Was Like Cheers: Everyone Knew Your Name'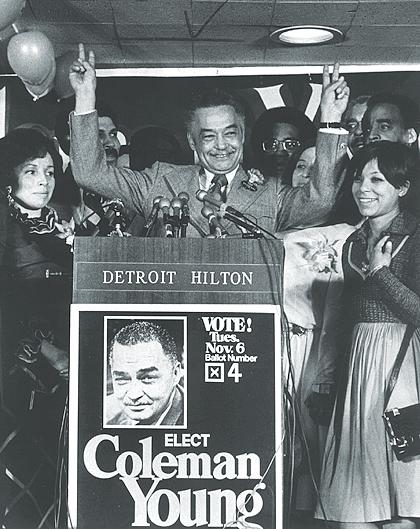 This is an outtake from my reporting on Palmer Woods, a small affluent neighborhood in Detroit. See the final print version here.
Much of my attraction to writing about Detroit came from the stories I was reading at the time. In the main, they all seemed to follow a similar pattern--this city's going to hell in spectacular fashion. I did not doubt the factual accuracy of this frame, so much as I intuitively felt it to be incomplete. It's very easy to report on tragedy when you're a writer--the complications are obvious, and people generally want to talk. I'm not against such reporting, Indeed I think it is essential.
But there's a point where the gaze shifts from informative to lurid, from documentary to pornographic. I did not want to write something "positive" about Detroit. No writer should ever set out to do such a thing. But I did want to reflect a different sort of truth. I did want to get as far away from voyeurism as possible. Part of that urge lay in being black. Part of it lay in being from Baltimore. But most of it lay in being a writer. I wanted to understand the city, as much as possible, as though I were a native.
In that endeavor, one of the first things I had to get was that the concept of owning your own home, in Detroit, is different in degree and scope than in other cities. Homeownership is a religion in America, but the fanatics of Detroit are without peer: 85 percent of Detroit housing consists of single-family homes. In that sense, Detroit is reflecting Michigan's traditional ardor for the single family dwelling. In 1900, Michigan's home-ownership rate was 16 percentage points higher above the national average. In 2000, it was 7 points above. The gap had shrunk, but, overall, Michigan still had the third highest home ownership rate in the country.
The second thing to get was that the city was really built for the car. Woodward Avenue, which marks Palmer Woods' eastern border and was once the Sauk Indians' Saginaw Trail, is the country's oldest paved road. And the city's far-flung neighborhoods of detached homes, many of them with driveways, were built on the same suppositions as the surrounding suburbs. Space was dogma. Density, anathema.
Prewar Detroit spawned at an epic clip, its population doubling between 1910 and 1920, its assessed valuation quadrupling from $350 million to $1.4 billion. In 1914, Henry Ford announced the five dollar work day, summoning forth European immigrants and blacks from the South desperate for wages. In 1916, GM announced dividends of $50 a share, the largest in Wall Street history up to that point. "When Henry Ford did his five dollar a day, that was not by accident," said Dan Pitera, director of the Detroit Collaborative Design Center at the University of Detroit Mercy. "At that time you could buy a home and own a car on five dollars a day... . He made it possible for everyone he employed to buy a Ford."
During the boom years of the Big Three automakers, Detroit essentially functioned as a sprawling bedroom community for the auto plants in Highland Park, Hamtramck and Dearborn. "I like to call Detroit the largest middle class city ever built," Jason Booza, a demographer at Wayne State told me. "Everybody had to have a car. What you have is, essentially, a flat city. New York and Boston were vertical. You didn't have that in Detroit.
"It was part of that American Dream, what you saw in the Levittowns. We didn't want to live in overcrowded tenements like the vertical cities. We had the ability, wealth and land to spread out. You couldn't do that as much in New York. Our only constraint was the river. We were completely flat. Nothing hindered our horizontal expansion."
Detroit, singular among America's older big cities, boomed in the first half of the 20th century, just as luxury items--specifically the car and the detached home--became available to the urban working classes. Thus the city was built on a kind neo-Jeffersonianism--detached single-lot homes with lawns, driveways for cars, and an undercurrent animus toward renters, many of whom happened to be black.
For decades, African-Americans were made to watch Detroit's middle class fantasy unfold like hired help peering in from the broiling kitchen of the city's overcrowded slums. During the riots of 1967--known, not as a riot, but an uprising among black Detroiters--the servants crashed the party. In 1972, they staged their own. That was the year Coleman Young, the city's first African-American mayor, came to power. Having been denied so long, through means legal and extra-legal, black Detroiters have been particularly taken by the city's Utopian proposition. 
Detroit is the only city in the country where more African-Americans own homes than rent. Only in Detroit does the African-American homeownership rate (53 percent) approach the national white homeownership rate (56 percent.) Much has been made of the great poverty among Detroit's African-American residents, a problem stretching back to the early 20th century, when blacks started streaming up North from the South. Less has been made of the rise of black middle and upper-middle class in the last half century. 
According to University of Michigan sociologist Reynolds Farley: 
In 1950, only one-quarter of metropolitan Detroit blacks were in the economic middle class if that means having a household income twice the poverty line. Despite the loss of manufacturing jobs, this grew to more than one half of blacks in 1990. The removal of the Jim Crow occupational barriers was also followed by the emergence of an African American economic elite. One-sixth of the metropolitan black households, by 2004, had incomes more than five times the poverty line. The city's elegant neighborhoods with their expensive homes--Boston-Edison, Indian Village, North Rosedale Park, Palmer Woods, Sherwood Forest--are racially integrated, but are home to a large and prosperous black population not found in Detroit before. 
Detroit has almost as many upper middle class African-American households as Chicago, (measured as households earning over $75,000 per year) despite having almost 100,000 fewer total African-American households. The city's black business class is a constant presence in Black Enterprise, the monthly bible of black entrepreneurs. Some of the largest chapters of the confrerie of black upper middle class organizations--the AKAs, the Alphas, The Links, The Boule--are in Detroit, where, in the midst of an urban crisis, a high shaman class has taken root. 
Like the previous lords, their grand homes quartered in leafy redoubts of the city are their talismans. Even as Detroit groaned under the weight of crime, failing schools, and high taxes, these neighborhoods held steady. But the country's current financial straits, bookended by the housing crisis and the bankruptcy of the Big three automakers, was a direct assault on the very structural premises of the region, and thus its wealth. Now dying by the sword, metro Detroit has the highest foreclosure rate in the country, and the upper crust have not been spared.  Now problems which were once unthinkable--crime, for instance--are cropping up, as Palmer Woods is brought back into the gravity of the city. 
While walking with the Barefields, we stopped in front of a brick mansion, sprawling even for Palmer Woods. It'd been vacant for years. But in 2007, it was sold to a local realtor. Barbara interviewed the man for The Palmer Woods Post and took pictures of him standing in front of the venerable fixtures. "They had all these gorgeous antiques," said Barbara. "They had just moved in and had beautiful chandeliers and sconces and they got ripped off right away."
A few weeks later, the police caught another burglar in the neighborhood who informed them about an antique store where he was fencing his goods. When the police went to the store the found many of the antiques that had been ripped out of the local realtor's home. "The police said, 'How do we know these are your things,'" explained Barbara, "and I had just photographed his house for our newsletter. I had photographs of all the things that had been stolen."
Despite its residents fealty to Detroit, Palmer Woods origins reflect the impulse to what would later come to be called (erroneously, I maintain) white flight. Here's a portrait of Detroit, just after the turn of the century, from Robert Conot's engrossing American Odyssey:
Detroit [had]... more brothels than churches...far more prostitutes than deacons...[and] fourteen hundred saloons operating twenty-four hours a day, seven days a week." Much of the police department was illiterate, and on the take...Crime investigation consisted of beating confessions out of suspects. The 'curbstone court' was an accepted custom.
Progressive reformers like Jacob Riis and Jane Addams cheered on suburbanization as an escape from the overcrowded, corrupt and crime-ridden cities. It was in that spirit that Charles Burton developed Palmer Woods as "a safeguard from the encroachments of commercialism..cut off from Woodward Avenue's dust and noise."
In point of fact, many of Palmer Woods early residents were architects of the very "dust and noise" they sought to escape. Frank Couzens, whose father built a fortune as Ford's vice-president and general manager, erected 14 homes in Palmer Woods during the 20s. TIME coverboy twice-over William "Bunky" Knudsen, who served both as president of Ford and then GM, and headed Franklin Roosevelt's war mobilization board, built a home on Balmoral. The Fisher brothers, whose Fisher Body supplied carriages to almost every car company in the city, built twin mansions in the neighborhood. Here was a class of people essentially of their own creations. When restrictive covenants were ruled unconstitutional, they were joined by blacks.
"They were all well-educated," local historian, and Palmer Woods resident, Steve Williams told me. "The larger shared cultural norms were not very dissimilar. African-American professionals, many of them successful entrepreneurs, often embodied the values that a lot of whites thought they had a monopoly on."
Palmer Woods' newest influx fused the customs of black America's ancient regime with the ethos of old Detroit money. They pledged their children to Jack and Jill, joined the neighborhood association, and helped revive the home tour in the late '80s. They held potlucks and barbecues to raise money for local charities and black artists. In The Palmer Woods Post, the neighborhood newsletter, their kids beamed in hats made from balloons, and clutched popcorn and snow-cones.
A distinctly urban liberal outlook took hold along side the old Jeffersonianism. Palmer Woods now bills itself, not as enclave cut off from the city, but as a "Detroit neighborhood filled with harmony, diversity and warmth: multicultural residents, architectural treasures, and natural beauty in a wooded, urban setting." But a cult of home and hearth links the old and new. Architecture is heritage, and Palmer Woods is a monument to the majesty and splendor of Detroit's ancient glamour.
Among the country's elder big cities, Detroit--founded as a French fort in 1701--stands alone as a boomtown which, in barely a lifetime, flared up and died down. The homes of Palmer Woods, a charming gumbo of the British, the French and Italian, betray the work of men who suddenly found themselves flush, and then searched the world for pedigree.
The African-Americans who followed, some only a few generations out of slavery and others right out of Black Bottom, found themselves in the same way. But much as the Pope conferred the legitimacy of ancient Rome on to Charlemagne, Palmer Woods' venerable collage of irreplaceable homes conferred the legacy of old Detroit upon the city's lately lords. And just as the Franks became the guardians of a heritage that scorned their ancestors as barbarians, home-owners here--like African-Americans across the country--became custodians of a world founded on their exclusion.
In Palmer Woods, it is common to meet home-owners who can recite the biography of every home-owner that preceded them, and can cite years for any additions made to their home. When making additions--or even repairs-- themselves, residents scour the state in search of contractors specializing in the specific era of the home's vintage. Under the eyes of the neighborhood's most fervent devotees, furniture is scrutinized and only added if it complements.
Those who've left the neighborhood, even as children, are sometimes drawn back and find themselves wandering Strathcona or Balmoral, seeking out old memories. "On three separate occasions, we've had people call or stop at the door, unannounced, essentially saying 'I lived in the house when I was a kid or I remember visiting this place with my grandmothers," George Galster, who lives in Palmer Woods, told me. "These people would bring photographs of what the house looked like. We have a quite thick notebook with documents; photos, letters from former occupants, including photos of when it was first built, and photos of it as it was being built."
Nor is residency a necessary prerequisite to rapture. Gerald Hough, 78, worked a mail route in Palmer Woods from 1968 to 1998, and was so taken that he began making regular trips in his off hours to the historical libraries to research the people who'd lived there and the stories behind the homes. "I just loved the beautiful old homes, and the layout" Gerald Hough, 78, explained over the phone, "It was a high quality neighborhood." Hough's fascination reached an apex, when, at the invitation of one of the owners, he spent five years living in a wing of one of the Fisher mansions.
Over the past few years, Detroit, the blackest big city in the country, has been hot with reporters and film-makers who've assigned themselves the work of comparing the city's mythical past against its precarious present. Their diagnoses are mostly rendered in the manner of hospice nurses recounting morbid and lurid tales over drinks with slack-jawed friends. TIME magazine purchased a house in the sleepy and decidedly black middle class neighborhood of Indian Point neighborhood, then promptly kicked off its coverage with a photo-essay entitled "The Remains Of Detroit."
The Times, taking measure of the city, asserted that Detroit "looks more like Pompeii than, say, Buffalo--like a city whose demise arrived overnight rather than over decades." Then, waxing rhetorically, the paper wondered "is Detroit America's Rome?" The coverage mirrored broader cultural conclusions about city that echo back through the decades. Detroit is where you set horror films and anarchic thrillers like "The Evil Dead," "Robocop," and the reboot of "Assault on Precinct 13."
Detroit is what the New Urbanists say when searching out an antonym for Portland, Seattle or Denver. Detroit is not a place where human beings live and breathe, but a symbol of mystical disaster. "Not since the last days of the Maya have the Americas witnessed a transformation as traumatic as that which befalls the Motor City," intoned the narrator of the recent BBC documentary Requiem For Detroit. "Here time seems to be running backwards...What was once the frontier city of the American dream, the Paris of the Midwest is now in its strange beauty the first post-American city."
The hyperbole is comforting, and offers the viewer a safe distance from which to point and gawk. But there is nothing post-American about Detroit. It was never so much a big city, as a sprawling inner-ring suburb now plagued by many of the same issues that plague Hempstead, New York, and Landover, Maryland. The notion that Detroit is somehow alien, or post-American, originates in the dissonance between its decidedly American past as a place where a high-school drop-out could buy a home and start a family, and it impoverished present.
This is Detroit as the Lost Cause--a narrative that ignores the fact that America's populist paradise was once a place where black doctors were made to wait tables. Unlike Landover, Detroit--with its dual heritage of Henry Ford and Ossian Sweet--still holds a mass privileged class in its sway. Since the days of E. Franklin Frazier's Black Bourgoise through Malcolm X's riff on "House slaves vs. Field slaves," into our present time, the narrative treatment of the black middle class has typically ranged from outright contempt to freakish curiosity to utter disregard.
In Detroit, the latter is in vogue. The eye is drawn to those who can't flee Detroit, but, in so many ways, post-Civil Rights Detroit was built and maintained by those who can but choose not to. Whatever the problems of post-Civil Rights Detroit, it is the site of a great democratization, one that was obstructed and then abandoned by many of the city's whites and perpetrated by its blacks. In that sense, those who live in Palmer Woods are heirs to both the splendor of golden era Detroit, and to the revolution that overthrew it. Some of those heir are uninterested in the claim.
Karen Batchelor (who I mentioned in the lede of my story in the magazine) went on to a career in public affairs, and presently works as a consultant in social media. After tracing her mother's roots,  Batchelor became the first African-American to join the Daughters of the Revolution.She's lived in different neighborhoods throughout Detroit, but remained committed to the city. "I think there was only one time that I ever thought about living somewhere else, which was after I got divorced," she told me. "But Detroit was like Cheers. It was like everywhere you went somebody knew your name."
Kwame Kilpatrick's tenure as mayor left Batchelor depressed and wounded. And then her son and daughter were carjacked while visiting her at her loft near Wayne State. "They called the police and no one came for a half an hour," said Batchelor. "They called back and someone hung up on them. My son and daughter in law didn't want to come down and visit me." Batchelor decided to move to Huntington Woods, north of the city. It's a decision which she still has not made total peace with. "I'm really into roots," she told me. "I'm into genealogy. Detroit was my roots. I really didn't want to leave...I had a passion for Detroit. Whatever I could do to make the city better, I tried to get involved in."