A Conversation With Majora Carter, Green Jobs Pioneer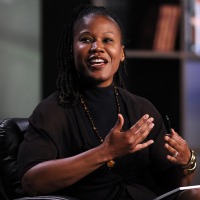 Majora Carter is not afraid to cause a scene. While carrying the Olympic torch in San Francisco in 2008, she whipped out a Tibetan flag while surrounded by Chinese guards and held it high in protest of China's rotten human rights record. Some, including a retired officer from the New York City police department and a retired officer from the NYC fire department, who were also participating in the torch run, were appalled, and her corporate sponsor flew into a carefully worded rage. "It was an honor," Carter has said of her gesture, "and one that I couldn't pass up, because I'm a civil rights activist here in this country." While she maintains good relations with the same sponsor today, she remains unapologetic about taking such an occasion to send the message she sent.
That kind of activism has a made Carter a leading champion of environmental and social justice movements in this country. She started in her native South Bronx with an ambitious project to convert illegal garbage dumps into public parks in 2001 and has since earned herself a MacArthur "genius" grant, several honorary PhDs, a memorable moment on the TED stage, and a few comparisons to Martin Luther King, Jr. She is president of her own consulting firm, the Majora Carter Group, and hosts radio and television shows that cover green development and innovation.
Here, she talks about urban horticulture, green jobs for incarcerated Americans, and the Zen of playing Tetris on her phone.
What do you say when people ask, "What do you do?"
I am a local economic revitalization strategist. But I am also a TV/radio host, and a small business owner. I find ways to use money more efficiently to realize positive goals for everyone.
What new idea or innovation is having the most significant impact on the sustainability world?
Horticultural infrastructure for climate adaptation. Our current economic regulations (which are basically a form of corporate welfare) support activities that don't employ the vast numbers of Americans who have been let down by our educational system for the past several generations. These folks go on to become our most expensive citizens in terms of social service spending. At the same time, we'll be dealing with climate change for at least the next several decades. Adapting our cities to handle storm water management, urban heat island effect, and poorer air quality can be done in the most cost-effective manner by intensive urban forestation, green roofing, and comprehensive horticultural infrastructure solutions, which will provide accessible jobs to people who currently cost us billions in incarceration and services. They need jobs, and we need to adapt our cities. It's a good fit.
What's something that most people just don't understand about your field?
Many people still believe that "green" solutions are too expensive, but they are actually much cheaper when all of the costs to public health, social services, and waste handling are factored into the same equation.
What's an emerging trend that you think will shake up the sustainability world?
Younger generations are entering positions of greater authority in all fields: they understand the long string of failing economic and environmental assumptions made by previous generations, and they are not afraid to take responsibility and do something about it.
What's a sustainability trend that you wish would go away?
Greenwashing. "Beyond Petroleum," anyone?
What's an idea you became fascinated with but that ended up taking you off track?
Writing a book. Several people in the publishing industry told me six-figure advances and bidding wars were in my future—I signed up with a literary agency, spent a lot of time and money on a proposal, and got nothing in return. Meanwhile, everywhere I speak, people are looking for a book from me to help them accomplish their goals.
Who are three people you'd put in a sustainability Hall of Fame?
Rachel Carson—she challenged conventional practices of the pesticide and herbicide industry, connecting the real costs of not thinking how those chemicals cycle through our lives. The same approach is needed for all fossil fuel-based practices.
Dr. John Todd—"living machine" pioneer. Low-cost sewers and water filtration management. I know it doesn't sound very sexy, but it's really cool. An engineered systems of plants can do the job very well.
Brenda Palms-Barber—she is employing people who would ordinarily be in and out of jail to work in beekeeping and honey-based skin care products. All industries and social services can learn from her.
What other field or occupation did you consider going into?
Film-making. I studied it at Wesleyan and got an MFA in writing from NYU. I am still writing my own script (my life) and re-imagining landscapes, but not like I had expected.
What website or app most helps you do your job on a daily basis?
Google Calendar—is that too boring? If you saw my schedule, you'd understand. I also play Tetris on my phone, which helps me clear my head sometimes. Actually, now that I think of it, my calendar looks like a game of Tetris! I need to take some time off....
What song's been stuck in your head lately?
"Hey, Soul Sister" by Train.
---
Image: Phil McCarten/Reuters
Read more installments of "Nine and a Half Questions."