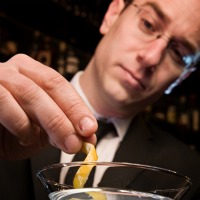 Derek Brown likes to call himself a "booze nerd"--an apt description, since it captures both his extreme detail-orientedness about the craft and history of cocktails and the irreverent sense of humor that enables him to refer to mixology as just booze. He is the James Beard Award-nominated drinks guru behind the Columbia Room, a Washington, D.C., cocktail lounge that is frequently listed as one of the best cocktail bars in America.
Brown is also a regular contributor to The Atlantic's Life channel, and has, in his trademark highbrow-lowbrow style, filled our site with everything from his in-depth look at the history of the Rickey, D.C.'s hometown classic cocktail, to entertaining rants about customers who ask silly questions and the most annoying reviewers on Yelp. Here, he talks about making drinks for Barack Obama, how bartending is like anthropology, and why you should never, ever order a Dirty Martini.
What do you say when people ask, "What do you do?"
It's always a struggle to put it in the right words: I drink for a living. My favorite response came when I was privileged enough to make cocktails at the White House, and I was introduced as the mixologist. President Obama responded, "Isn't that just a bartender?" I guess booze nerd may be the most accurate. Still, I think bartender works pretty well. As President Obama added after his question, "Well, being a bartender is a lot like being the president: everyone thinks they can do it but they can't, can they?"