A Conversation With Dawn Danby, Sustainable Design Expert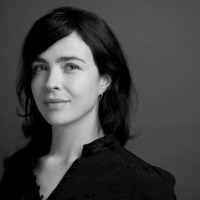 Dawn Danby's background is hard to sum up, except everything is green. She has worked in green building and furniture design; she once spent years with an artist designing a tree-covered, wind-powered pedestrian bridge on the U.S.-Canada border, but now she works on sustainability issues for
Autodesk
, which makes 3D design software used by 10 million designers, engineers, and architects worldwide.
In 2009, Fast Company recognized Danby as one of the 100 Most Creative People in Business, and she has spoken at numerous conferences, including TEDGlobal 2005. Here, she discusses the challenge of overhauling how engineers are taught, why watered-down green thinking is worse than the evilest greenwashing, and music.
What do you say when people ask, "What do you do?"
I'm a designer and strategist focused on sustainability. This has been generally true since about 1998. I also have various secret identities that have either kept me sane or paid the rent, so there are people out there who know me as a medical illustrator, a singer, or as curator for Reorb.it, a social media theatre project.
Right now I run a project called the Autodesk Sustainability Workshop, which teaches young engineers and designers about sustainable design. There's probably an order of magnitude more engineers than there are designers, and they're often trained in a math and physics vacuum without any focus on the values or environmental impact of their decisions. This is something we should be intensely concerned about: students want to make real, physical things, and they want to have an influence.
What new idea or innovation is having the most significant impact on how people think about sustainability?
New forms of connectivity are changing how we think about sustainability and what we perceive to be true. Sounds cliché, but it's basic. Many of the core concepts around sustainable design haven't changed much in decades. What has changed is our ability to access information about what works and doesn't.
What's something that most people just don't understand about what you do?
That I often have to start at the beginning. Many folks don't realize how many people out there are brand new to thinking about the environment, and who lack a basic understanding of science and planetary ecology. We like our echo chambers: it's seductive to stay inside small, comfortable communities.
I rarely meet people, in any field, who are totally cavalier about destroying ecosystems or human health. I think a lot about the engineer who, two beers in, came up to me at a conference, and tried to pick a fight: his opener was, "I think sustainability is a communist plot." The conversation we had was sort of profound, because I had to figure out how to make this stuff relevant to him while trying to really understand his grievances. We ended up agreeing on everything except terminology.
What's an emerging trend that you think will shake up the sustainability world?
Access to better, more transparent data is increasing the number of people who can spend time thinking about environmental impact. Sustainable design had been based on loose assumptions and rules of thumb. My colleagues at Autodesk work tirelessly at getting better information to designers well before things are built. We now have data that allows architects to run detailed models, estimating how much energy a particular building design will use. Product designers can choose materials based on their emissions impact, water use, or toxicity. This is a radical change.
What's a sustainability trend that you wish would go away?
I've had it with the greenwashing that results from clueless enthusiasm. Initially it was a mechanism for polluting industries to give themselves a green tint through marketing campaigns. Malicious greenwashing has actually been subsumed by a flood of watered-down, thoughtless claims. This is almost worse, since much of it is done by good-hearted people who don't realize that they're responsible for misinformation.
It makes our work harder to do. People are smart enough to know that you can't save the world with lightbulbs alone. We have a responsibility to keep our future innovators interested and excited, and they don't want to associate themselves with things that seem intellectually weak or factually wrong.
What's an idea you became fascinated with but that ended up taking you off track?
Focusing too much on individual consumption. I consider my bike-commuting, community-garden-tending, local-food-buying habits to be useful prerequisites: personal rituals. I don't have any illusions about how small these impacts are. Since we only have this one life, I'm much more interested in leverage: how can we change the practice of the people who design whole buildings, fleets of cars, or new energy technologies?
Who are three people you'd put in a sustainability Hall of Fame?
Vandana Shiva for linking agriculture to sustainability and human rights. David Suzuki for spending decades making ecological science accessible to normal TV-watching Canadians (like me). He also does the fiercest rundown of humans' place in geological time that I've ever experienced. Paul Hawken for his beautiful words, his sense of possibility, and his contribution to building the bridge between the business community and the environmental movement.
What other field or occupation did you consider going into?
Music. I've been a singer for a long time. My favorite thing in the world right now is making things up on the piano, an amateur bliss. And I went to design school originally to be a painter.
What website or app most helps you do your job on a daily basis?
I'm surrounded by very powerful 3D tools, but I don't open them every day. Twitter lets me take the temperature of various communities, track the shifts in sustainable design, and feed that into making the Sustainability Workshop better, more relevant. Its shorthand is always running in the background.
What song's been stuck in your head lately?
Honestly, Phil Ochs's "Tape from California" is stuck looping in my head, although I'm listening to a lot of Chad VanGaalen and Ali Farka Touré. And I'm wrestling with the chord progressions for various Nina Simone songs, though I sing them a lot better than I play them.
---
Image: Courtesy of Dawn Danby