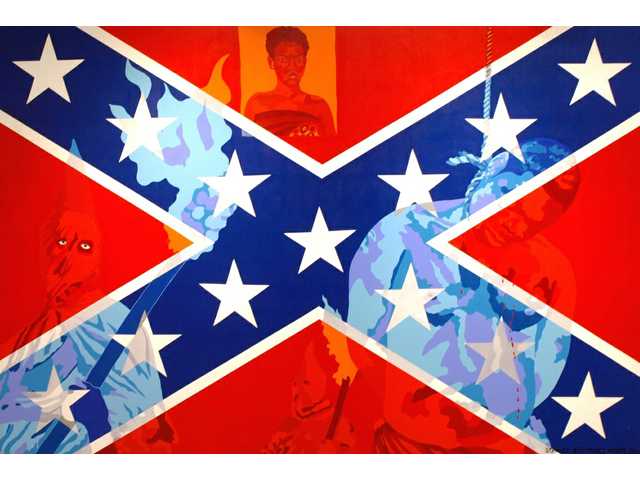 Via Kevin Levin, artist Stanley Bermudez says his work (shown above) was removed from the art show at his college after complaints:
"In school (in Venezuela) we learned about the United States' Civil War and slavery. I learned to have a negative view of the flag -- I basically associated the image of the flag with slavery, racism and the KKK," said Bermudez. "In 1983, I was a college student in Texas and saw a group of KKK clansmen in their hooded robes, standing on a street corner yelling and waving the (Confederate) flag. My English was limited at the time, so I'm not sure what they were yelling, but I probably wouldn't want to know. It only happened once in the 12 years that I lived there, but that image stuck with me...




"This is very much what I feel and think about when I see that flag. It's just my personal feelings about it. It's an accumulation of the things I've seen, studied and read over the years," Bermudez said. "When visiting the KKK website, the (Confederate) flag is used often. Recently, the KKK has had public meetings near (my home), which scares me because of their anti-Latino immigration sentiments."



Although the finished piece is how Bermudez sees the flag, not everyone agrees with his views. Public response to the piece was so strong that Gainesville State's administration asked that the picture be removed from the faculty showing in the Roy C. Moore Art Gallery on the college's Oakwood campus, Bermudez says. "I wasn't expecting that kind of feedback. I've been an artist for 25 years. I've always known that artwork can be powerful, but I never dreamed it would be this powerful to the point that I would be censored."




Instead of a painting, his artist's statement explaining what inspired the absent piece is now hanging in the gallery. The college declined to share with The Times any of the feedback that prompted the removal of the painting; however, at least one "Southern heritage" website described the painting as "despicable" and prompted visitors to contact Martha Nesbitt, the college's president, about the picture. Site administrators even posted her e-mail address and telephone number. 




 "Even though I don't agree with the decision to take it down, I do respect it," Bermudez said. "I know if I was in that kind of position, I'd have a difficult time making a decision, because it's a hard one to make."
It's fascinating to me that his objection to flag comes from a totally different perspective. Still it's a bit to literal for effete liberal taste.