The Right Way to Honor Judge John Roll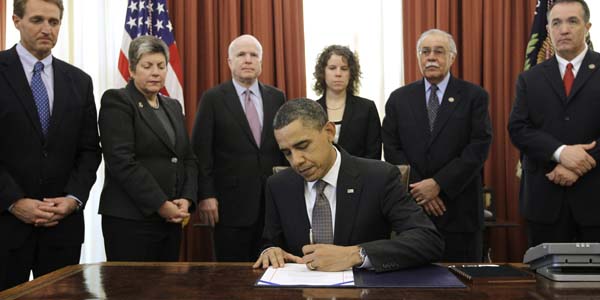 President Barack Obama Thursday formally named a yet-to-be-built federal courthouse in Yuma, Arizona, in honor of Chief U.S. District Judge John M. Roll, who was slain last month in the Tucson shooting. Construction of the courthouse that will bear his name will begin this summer and be completed by 2013. The Arizona Republic reported that the judge himself approved the design for the new building shortly before he was killed.
It's a nice gesture by the White House. It's an easy call. But Judge Roll did not die in that supermarket last month because of a new courthouse in Yuma. He died because he went to talk with Rep. Gabrielle Giffords and her staff about the "judicial emergency" that exists in the state today caused by the failure of the Senate and the White House to fill judicial vacancies in Arizona (there are now three state-wide and two in Tucson itself). He died, working on a Saturday morning, for more judges to be appointed by Washington to handle the huge caseload in Tucson and other parts of the state.
That is how the Congress and the Obama administration ought to memorialize a judge who gave his last full measure of devotion to a worthy cause. The White House should promptly fill those empty benches in Arizona with earnest, honest nominees. And the Senate should move quickly to confirm those candidates. You can hold court in any old building, after all, but you can't hold court without a judge.
Image credit: President Barack Obama signs the John M. Roll US Courthouse Bill, Thursday, Feb. 17, 2011. Among those watching, from left are, Rep. Jeff Flake, R-Ariz., Homeland Security Secretary Janet Napolitano, and Sen. John McCain, R-Ariz. unidentified, Rep. Ed Pastor, D-Ariz., and Rep. Trent Franks, R-Ariz. By AP/Charles Dharapak.