Please Welcome: Dougherty and Klapmeier, Fingleton, Fisher, and Jenne
Once again I'm grateful for the range, quality, sophistication, and care of posts by a team of guest bloggers. I could go on at length -- and at a later time, will -- but for now I'll simply say that among other things in this past week I enjoyed: from Damien Ma, Sinica of many sorts including the rough patch for China's vaunted high-speed rail system and the possibilities of the 美女税, or "babe tax," and the obstacles for Chinese soft power; from Edward Goldstick, many examinations of the man-vs-machine conundrum, including this detailed debugging of Mac and Windows systems and this and this on the Jeopardy showdown; from Mark Bernstein, a complementary series of man-plus-machine essays, including this provocative discussion of the promising future of reading and this on the meaning of the Watson triumph; and from Kate Sedgwick, these scenes in Bratislava illustrating the lingering psycho-social effects of the communist era. Sincere thanks to them all.

Mark Bernstein deserves additional mention for handling my user queries about his fascinating and powerful
Tinderbox software
(logo left) while also doing his entries. I am chagrined to note that during this process I manifested one of the mistaken views about how software works that he lists
here
!
Next up, please welcome:
Kate Dougherty
and
Alan Klapmeier
. I have
mentioned
that an earlier guest blogger, Bruce Holmes of NASA, was one of the heroes of my book
Free Flight
. Alan Klapmeier, plus his brother Dale and their many associates including Kate Dougherty at the Cirrus Design corporation of Duluth, were also triumphant central figures. Over the past decade, Cirrus has become the world's leading innovative producer of small propeller airplanes. At right is a picture of an early Cirrus (like the one I bought 11 years ago) under the company's pioneering parachute for the whole airplane. As explained by Lane Wallace
here
and by me
here
, Alan has left Cirrus and started a new small-airplane company. Kate Dougherty, who was with Cirrus from its early days (and is Alan's sister-in-law), has joined him there. I imagine they will write about the nature of startups, about
new possibilities
in travel, about the ancestral struggle between entrepreneurs and venture capitalists, and other topics.
Eamonn Fingleton has written extensively about Japanese finance, manufacturing, economics, and politics from Tokyo, where he has lived and worked since the 1980s. I met him there in the "Japan boom" days when he was an early voice warning of an impending crash. Since then he has consistently argued that the extent of Japan's "collapse" has been greatly overstated, since the country now maintains a surprisingly rich and technologically advanced society with many of the world's leading export corporations. I imagine he'll be writing about Western/Asian interactions of various sorts.
Julian Fisher, who lives in Boston, is a neurologist and serial entrepreneur, and also, as he puts it, "a devoted Yalie who just happens to be on the Harvard Medical faculty." Many people who have made guest appearances here operate on frontiers -- in the realm connecting software and thought, innovation and regulation, America and Asia, etc. Much of Julian's work has involved the connection between medical science and information technology, and I imagine we'll hear more about that.
Jeremiah Jenne, has been based for several years in Beijing, where he teaches, writes, and continues his doctoral work in Chinese history. He is best known in China circles for his wonderful site Jottings from the Granite Studio. Its motto, "a Qing historian reads the newspaper," accurately suggests the frontier on which he operates: the interaction between Chinese (and Western) history and current events.
I feel very fortunate that people like these have offered to share their views. Please welcome this new crew.
And to follow up from yesterday's news: I would like to think that it's foggy here today in Beijing. But the overnight AQI readings have all been "beyond index." Here is the 9am view, and below that the overnight BeijingAir readings. Hmmmm.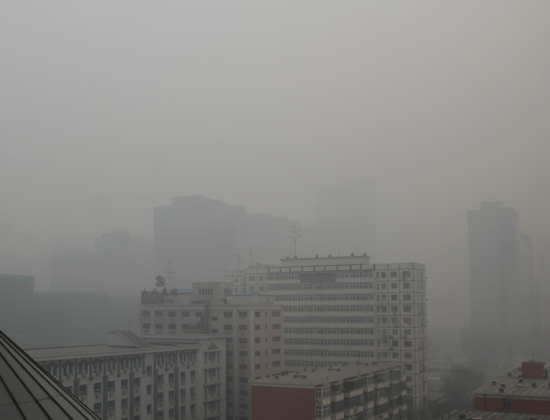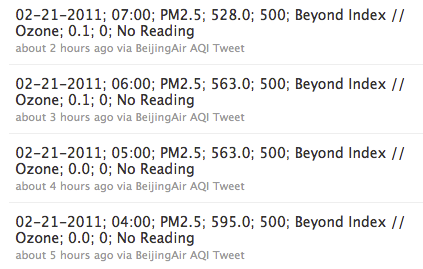 To put these in perspective, the AQI right now
in the capital
of the world's other major power, the US, is 27, "good," vs these 500+ "beyond index" readings for Beijing. All part of the mixed nature of modern China's achievement.