Please Welcome: Brown, Cham, Fallows, Minter, Pierce
There is no better way to recognize the contributions of one of this past week's group of guest bloggers -- Alan Klapmeier, lifelong airplane nut and successful airplane designer -- than with news this weekend of a successful flight by a kindred spirit in northeast China. No lesser source that China Daily reports that Ding Shilu, an auto mechanic in Shenyang, has built his own airplane out of spare parts, including motorbike engines, and test flown it on a frozen reservoir. This is the "nothing can't be done!" spirit of aviation that Alan has celebrated.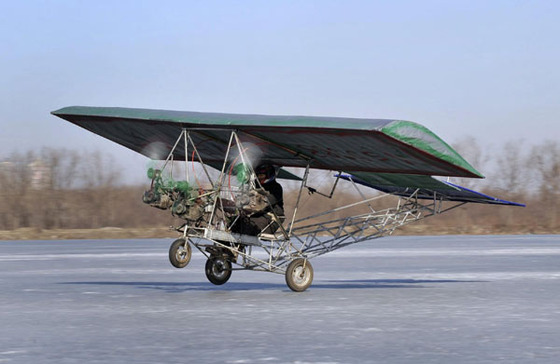 In addition I am very grateful to
Kate Dougherty
for collaboration with Alan; to
Jeremiah Jenne
for reports on many less encouraging developments on the Chinese front, from
drought
to
errant ambassadors
to
drenched protests
; to
Julian Fisher
for looks at the
technological
,
political
, and
economic
aspects of neurology and other life sciences; and to
Eamonn Fingleton
for the ramifications of
history
in
many forms
. Seriously, thanks for a great set of contributions.
We're halfway through the guest-blogger era. If only I were halfway finished with a book! I should say that the longer this goes on, the more I respect the willingness of contributors to take a one-week arc (as opposed to the long, slow, no-pressure circumstances in which the normal incumbent of a space can look for a voice and tone) and establish a presence and argument, before an unfamiliar audience, in that time. Thanks too to our readers for your attention. I am proud to announce our new team. Please welcome:
Don Brown
, a career (now retired) air traffic controller and safety expert, based in Atlanta, who is known for his writings in aviation sites and now his own
Get the Flick
blog. He probably will explain what "get the flick" means in the aviation world. I've never met him but have found him very enlightening in explaining over the years why air travel works, and doesn't, from a controller's point of view.
James Cham
is a principal with Trinity Ventures, a venture capital firm in Menlo Park, Ca. He previously was part of Bessemer Venture Partners and is generally in the middle of the culture of high-tech startups that we all hope will improve our lives. That's how he's known to the world. He's additionally known to me for having taken time years ago to set up an early pre-Atlantic version of this site. I expect he will be describing the nature of start-up culture now, whether we're in another tech bubble, and related topics.
Adam Minter
, a writer originally from Minnesota and in recent years based in Shanghai, is familiar to Atlantic readers for articles like
this
and dispatches like
this
, plus his regular
Shanghai Scrap
site. I believe he has a scrap-related plan in mind for this week's dispatches. (Indeed
I see
that he has admirably beat me to the punch.)
Lucia Pierce
, now also based in Shanghai, has worked for years on cultural and educational connections between America and China. For years she directed the influential Chinese-language program at Sidwell Friends School in Washington, and she has also been head of education programs at the Freer & Sackler museums of the Smithsonian system. She has run an international high school in Shanghai, and now she counsels Chinese families whose children are aiming for high-end American universities. College admission practices, Western-vs-Chinese approaches to mothering, "kids today" -- she's on top of all of these topics.
Plus as an out-of-alphabetic-order bonus guest blogger:
Deborah Fallows,
who has a doctorate in linguistics and speaks many languages, will be writing about language issues as they affect understanding and misunderstanding between China and the Western world. She is the author of
Dreaming in Chinese
; and, as I probably should mention, the view out her window, whether in Beijing or Washington DC, is usually the same as the view from mine.
Welcome to this new crowd; and as an envoi, one more glimpse of the inspiring Ding Shilu.