Can Social Make Kids (Want to) Cook?
By Lizzy Bennett
A friend recently shared this site with me, and I'm hooked.
I like foodily for a lot of reasons. It's search-based with a fresh but familiar UI. It allows you to exclude things from queries (no veal for me); browse by image (thank you tastespotting.com); preview recipe details on-site; save things without creating a unique account (argh epicurious); and tap Facebook (Katie likes this? I will too). And all of this without ads! I understand the value of ads, but food ad targeting can't get much worse. If I'm a vegetarian, please don't serve me an Oscar Myer ad.
I love the site and look forward to using it on my iPad in the kitchen -- everyone's favorite $500 cookbook -- but I'm most intrigued by its link to social because of the potential to attract kids (ie. teens) to cooking. If looking at food is fast, beautiful and social, could that make it cool to cook?
I clearly remember what turned me on to cooking. I had a Spanish friend in junior high school whose family introduced me to open faced sandwiches (what?!), lunch at 3 pm (really?!) and cheese for dessert (hmmm). Weekend lunches were a big deal in their family and I was part of the shopping, cooking and of course, eating. While my sisters and I spent a lot of time in the kitchen with my mom -- and she prepared delicious meals -- it wasn't until cooking became "exotic" that I got excited about it. (Sorry Mom!) The hook for kids could be Facebook. They'd be grossed out if their Moms Liked their recipes; but if their best friend and the new guy Liked them, that would be a different story.
Perhaps Facebook is what will get kids excited about cooking, just like urban gardening gets hipsters excited about eating. It would certainly make lunch more interesting.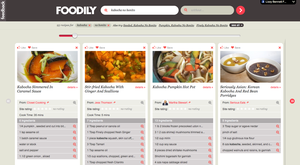 Lizzy Bennett is online marketing manager for Timbuk2 Design in San Francisco.