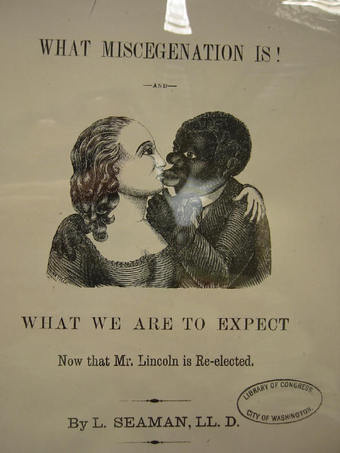 E.J. Dionne takes on "No Labels," but in the process writes this:
The No Labelers are also right to be repulsed by the replacement of real argument with a vicious brand of name-calling. When a president of the United States is attacked simultaneously as an "extreme liberal liar" and a "Nazi," there is a sick irrationality at work in our discourse.
I've spent a lot of time with my head in the 19th century, and one thing that is immediately clear is that real argument has not replaced vicious name-calling, if only because viscous name-calling has generally been the order of the day in American politics, and perhaps in democracies the world-over.
The 19th Century GOP was derisively referred to as "The Black Republican Party," and a movement bent on bringing about an age of mass miscegenation. (This was actually sort of true, but not how the Democrats meant it.) Whatever Harry Reid's sins, I've yet to hear of him taking a cane to Mitch McConnell in order to
defend the honor of Nevada
. I don't have much of a handle on the rest of American history. Perhaps there was some era of civility that I've missed. But, in the main, I think this about television and people who hate themselves for watching cable news.
I don't mean to pick on Dionne--this wasn't the main point of his piece. But it's an underlying current in this idea that there is some kind of civility crisis in America today, or that we are uniquely divided at this moment. If you're black, the country has long been sundered in two.