TSA Update: Preparing for My First Grope
Today: Off the plane SYD-LAX, realize to my horror that exiting the US Customs gate means exiting the "secure" area altogether, so ahead lies.... another TSA screening, to transfer to a domestic flight.
Shoes off. OK, used to that for years. But ahead at LAX are the dreaded "backscatter" / enhanced imagery / nude picture machines. Plane from Sydney is well over an hour late to LAX. "Ladies and gentlemen, for your safety we have deviated several hundred miles around a thunderstorm in the Pacific." Barely able to make the connection. Realizing that I don't have time to fool around with the "Opt Out" procedure rather than go through "advanced imaging." I'm next in line for nude photo machine. "You getting many complaints about these?" I ask the (very nice) TSA woman. "Yeah, basically everybody," she says. "I hear that lots of people are going to be boycotting next week." Interesting! Maybe she's an Atlantic reader. "It's my first time, and I'm not looking forward to it," I say. "OK, try this," she says -- pointing me over toward the plain old metal detector.
(What I avoided:)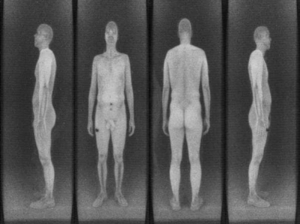 My wife, right behind me, was next in line for the nude machine. "Are
women
supposed to go through these?" she asks, in her touching innocence. The TSA woman waves her to the "normal" machine too.
Morals:
1) It's not the fault of individual TSA people, as Jeffrey Goldberg has
pointed out
.
2) The pretense that safety comes only from no-exceptions, full-court-press, nude-scans-or-groping-patdowns of everyone is preposterous. Half the people getting through the LAX gate went through the "normal" machine. Half through the nude machine. If the regular machine is safe for anyone, why isn't it safe for everyone? WTF?
3) Tomorrow, checking in again at SAN, site of the recent celebrated
TSA dustup
. Will be on best behavior. But plan to get there early enough to "opt out." Sadly, don't have a
kilt
with me.