True Thankfulness -- Plus, Christmas Comes Early
From
the NYT
just now:

Merciful heavens, we give praise and thanks -- if we are indeed saying goodbye to this: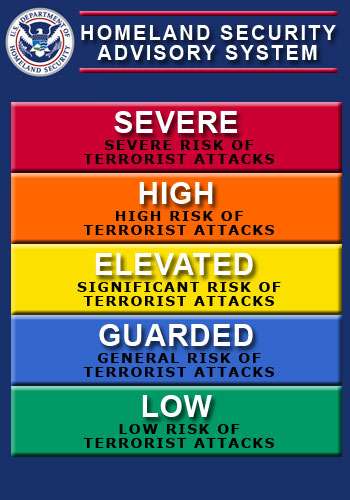 What is wrong with the familiar monotone "The Department of Homeland Security has determined that the threat level is 'Orange' " announcement and mentality?
1) It is meaningless. You hear that at the airport in San Antonio, when there's a threat in Baltimore?
2) It is unhelpful. What exactly are you supposed to do? Apart from being worried?
3) It is ignorable, since it hardly ever changes. It's
been "Orange"
since the summer of 2006. It has never been "Blue" or "Green." The U.S. "surges" in Iraq and then withdraws; it has Bush and then Obama; a Republican majority in both Houses, then Democratic, then a Republican House again; it changes strategy in Afghanistan; it has an "underwear" bomber and then introduces new machines -- and through all this time, we are steady at "Orange."
So we have movement on the lamentable color codes; and the TSA
backing off
strip-searches of uniformed pilots; and today's apparently low-stress day at the airports... perhaps there is a common-sense way out of the security-theater
ratchet
? I'll hope so, and on that positive note bow out until next Monday. Happy Thanksgiving.