Marijuana Placeholder Post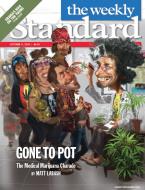 Murphy's Law of Blogging: Hit the road for a couple days to do some "real" reporting and suddenly bloggable topics will sprout like mushrooms in your absence. A brief placeholder, then, on several marijuana-themed stories I'll weigh in on.
"It's Democrats' Secret Weapon!": The Wall Street Journal has weighed in with a story first written about on this blog in July, and updated with important qualifiers here: Democrats think marijuana ballot initiatives might be a way to drive out their voters. The Journal story is fine, but doesn't really tackle the "case against," which it should have.
"It's Everywhere!": I'm in Los Angeles working on a story and doing some TV, and realized that I happen to be staying just down the street from the LA campus of Oaksterdam University, the marijuana trade school I attended last year and wrote about in the Atlantic. I'm debating dropping in on Joey the Horticulturalist. Probably won't.
"It's in Michigan, Too!": If you read only one first-person reportorial account of what it's like to attend marijuana trade school, read mine. But if you're going to read two, make the other one Matt Labash's hilarious and scrupulously well-reported cover story, "Gone to Pot," in the current Weekly Standard (worth the price of the mag for the cover art alone). And then go buy Matt's book, which has been dubbed "the funniest book of the year" by multiple Atlantic blogs, including this one.