'We Have Received Provocation Enough'
by Andy Hall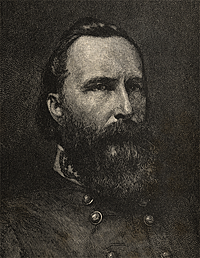 On the first day of July 1863, Confederate
Lieutenant General James Longstreet
(left), writing through his adjutant, ordered General
George Pickett
to bring up his corps from the rear to reinforce the main body of the Army of Northern Virginia. The lead elements of the armies of Robert E. Lee and George Meade had come together outside a small Pennsylvania market town called Gettysburg. The clash there would become the most famous battle of the American Civil War, and would be popularly regarded as a critical turning point not just of that conflict, but in American history. More about Longstreet's order shortly.
I was thinking about the central role of the Battle of Gettysburg in our memory of the war when I recently read an essay by David G. Smith, "Race and Retaliation: The Capture of African Americans During the Gettysburg Campaign," part of Virginia's Civil War, edited by Peter Wallenstein and Bertram Wyatt-Brown. All but the last page and a few citations is available online through Google Books.
It's not a pleasant read.
During the Gettysburg Campaign, soldiers in the the Army of Northern Virginia systematically rounded up free blacks and escaped slaves as they marched north into Maryland and Pennsylvania. Men, women and children were all swept up and brought along with the army as it moved north, and carried back into Virginia during the army's retreat after the battle. While specific numbers cannot be known, Smith argues that the total may have been over a thousand African Americans. Once back in Confederate-held territory, they were returned to their former owners, sold at auction or imprisoned.
That part of the story is well-known. What makes Smith's essay important is the way he provides additional, critical background to this horrible event, and reveals both its extent across the corps and divisions of Lee's army, as well as the acquiescence to it, up and down the chain of command. The seizures were not, as is sometimes suggested, the result of individual soldiers or rouge troops acting on their own initiative, in defiance of their orders. The perpetrators were not, to use a more recent cliché, "a few bad apples." The seizure of free blacks and escaped slaves by the Army of Northern Virginia was widespread, systematic, and countenanced by officers up to the highest levels of command. This event, and others on a much smaller scale, were so much part of the army's operation that Smith argues they can legitimately be considered a part of the army's operational objective. Smith is blunt in his terminology for these activities; he calls them "slave raids."
These ugly episodes did not spring up spontaneously; it was a violent and entirely predictable result of multiple factors that had been building for months or years. For a long time, there was growing resentment in Virginia over escaped slaves seeking refuge in Pennsylvania, where there was considerable sympathy for the abolitionist cause, and stops on the Underground Railroad. These tensions increased substantially after the outbreak of the war, as Virginia slaves learned that they could expect to be safe as soon as they reached Union territory, where they would be considered contraband. White Southerners' resentment of this situation redoubled again in the fall of 1862, with the news that the Lincoln administration would issue the Emancipation Proclamation. This further encouraged slaves to flee to the North, and made it clear to slaveholders—had it not been clear before—that defeat would put an end to the "peculiar institution," and upend the economy and culture that went with it.

A November 1862 Harper's Weekly (New York) illustration showing Confederates driving slaves further south, to put them out of reach of the Federal armies in advance of the Emancipation Proclamation. The accompanying article told of two white men who escaped to Union lines and:
upon being questioned closely, they admitted that they had just come from the James River; and finally owned up that they had been running off "niggers" having just taken a large gang, belonging to themselves and neighbors, southward in chains, to avoid losing them under the emancipation proclamation. I understand, from various sources, that the owners of this species of property, throughout this section of the State, are moving it off toward Richmond as fast as it can be spared from the plantation; and the slaveholders boast that there will not be a negro left in all this part of the State by the 1st of January next.
Against this backdrop, the organization of Federal units of black soldiers, comprised of both escaped slaves and free men, was taken as an outrage. It struck a raw nerve, never far off in the Southern psyche: fear of a slave insurrection. The prospect of African American men in blue uniforms was taken as an extreme provocation, so much so that it was proposed in the Confederate congress—and endorsed by General Beauregard, the hero of Fort Sumter—that all Federals captured, black or white, should be summarily executed. This proposal was never adopted, but the Confederate congress did eventually pass, in May 1863, a proclamation instructing President Jefferson Davis to exercise "full and ample retaliation" against the North for arming black soldiers.
Finally, there was simple revenge. The Union army's shelling of Fredericksburg several months before had been a particular sore point, that festered for months as the Confederate army went into winter quarters nearby. One officer, determined to fix the destruction there in his mind's eye, made a special visit to that town one last time before setting out on the road north into Maryland and Pennsylvania.
So when Lee's army finally marched north in June 1863, it was fully infused with the intent to exact "full and ample retaliation" on Union territory as it passed. Lee issued orders against the indiscriminate destruction of civilian property, but made no mention of seizing African Americans, whether free or former slaves. In his essay, Smith points out that diaries, letters and even official reports from every division in Lee's army mention Confederates rounding up African Americans and holding them with the army. The practice was tolerated—when not actively encouraged—by officers at all levels of the army. Some, in fact, saw it as not only justified, but a legitimate tactic to meet the Confederacy's military objectives. Smith quotes a private letter to his wife from Major General Lafayette McLaws, whose division would bear the brunt of the action on the assault on the Peach Orchard on the second day at Gettysburg. Marching north into Maryland and Pennsylvania with his division, McLaws wrote:
It is reported that our army will will not be allowed to plunder and rob in Pennsylvania, which is all very well, but it would be better not to publish it as we have received provocation enough to burn and take and destroy, property of all kids and even the men, women & children along out whole border.

In every instance where we have even threatened retaliation, the enemy have given [way]—I am strongly in favor of trying it the very first chance we get.

In McLaws' view, the seizure of "even the men, women & children" was both justified as moral retribution and as an intentional escalation of tactics.

McLaws' corps commander was Longstreet, the most senior of Lee's officers and effectively the second-in-command of the Army of Northern Virginia. Longstreet acknowledged the practice of seizing civilians and accommodated it. In sending orders to George Pickett,  whose corps was bringing up the rear of the army, Longstreet, writing through his adjutant, G. Moxley Sorrel, sent word on July 1—the day the two armies first engaged each other—to move his troops toward Gettysburg. In closing he added, "the captured contrabands had better be brought along with you for further disposition."
"Further disposition" here refers to imprisonment, auction, enslavement, and (often) severe punishment at the hands of a former-and-once-again master.
McLaws' letter and the thirteen words closing Longstreet's order are damning, in that they show full well that the seizure and abduction of African Americans was, if not written policy, widely tolerated and made allowance for, even at the highest levels of the Confederate command structure. McLaws was a division commander, and Longstreet was second-in-command; while their words do not prove Lee knew and approved of this practice, it's hard to imagine he was unaware of it, and there's no evidence that he publicly objected to it, or made any effort to curtail it. My intent here is not to single out either McLaws or Longstreet  alone for condemnation—the de facto policy did not originate with either—but to demonstrate that the forcible abduction of free African Americans and escaped slaves was known and tolerated throughout the Confederate army, from the lowest private to the most senior generals.
There are many questions, many aspects, of the Civil War that are legitimate sources of controversy and dispute. There are questions that serious historians will argue about as long as anyone remembers this conflict, saying that this politician's actions were justified by that event, or that general made the right decision because he didn't know those troops were on the other side of the river. The abduction of free blacks and escaped slaves from Maryland and Pennsylvania during the Gettysburg campaign is not one of those events. It cannot be justified, or rationalized, or denied. It can only be ignored.
But it shouldn't be.
[This article is adapted from one originally published on my blog, Dead Confederates, on July 1, 2010.]