Today's 'Aha!' Airline Chart
Earlier this summer I mentioned a chart, by Bob Herbst via the Centre for Asia Pacific Aviation, explaining why airplanes feel more crowded than they used to be. They seem more crowded because they really are, as airlines have cut capacity far more deeply than traffic has fallen, raising the average "load factor" on U.S. airlines.*
Now, from the U.S. consulting firm IdeaWorks, again via Australia's Centre for Asia Pacific Aviation, another clarifying chart. Why does it seem so hard to get frequent-flyer or "miles rewards" seats on many airlines? Because on some airlines it really is hard. This chart, based on a survey explained here (PDF), shows how often a "miles" seat was available on various airlines, over a total of 6000+ booking queries made earlier this year.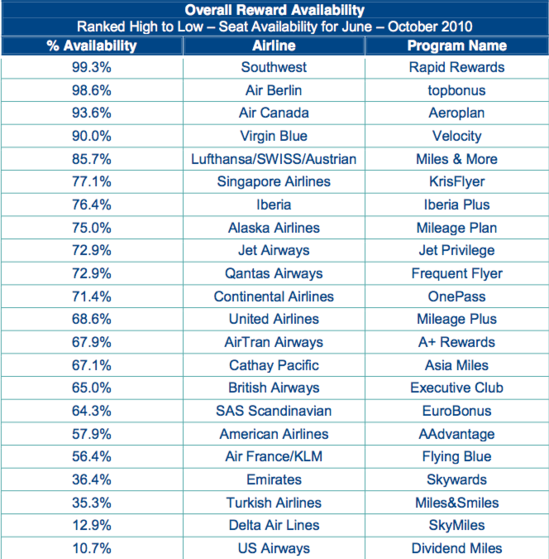 Some analysis from the IdeaWorks release:
The top-ranked programs ... have learned how to create loyalty while generating cash, by providing an adequate supply of seats at the levels offering best reward value. This is helped by controlling liability through aggressive expiration policies. The revenue part comes naturally when members become enthused (and not frustrated) by program participation.

Make no mistake, top-ranked programs make a conscious decision to provide more reward seats - - even at the potential short term cost of foregoing revenue from the sale of the very same seat to a fare-paying customer. Frequent flier programs have an abundant choice of methods to reward members for their loyalty. In addition, pay-with- point options give points an almost cash-like quality. One-way rewards are also becoming more prevalent.

No larger point here, just an interesting confirmation of the patterns behind our individual experiences and the differences among airlines.
__
* A larger point for later: higher load factors -- fewer empty seats, more people per plane -- are obviously more efficient economically for the airline and environmentally for the whole system of air travel. But a system with no slack becomes brittle in other ways, if anything goes wrong -- as, because of weather and mechanical difficulties, it inevitably does. More another time.