Today's Oshkosh Action Photo
In my other life, I would have spent this past week and the next few days in Oshkosh, WI, for the annual "EAA Airventure" show/fly-in. This is where many hundreds of thousands of enthusiasts amass, along with 10,000+ aircraft, for the equivalent of a sustained Harley rally, with wings. (Or rotors.) My wife came with me once, in 2001. Miraculously, we have remained married, and I've gone to several since then on my own.
I have an update on Airventure-related aviation news, for deployment in the next day or two. For now, an action photo. With so many airplanes pouring in, during so concentrated a period, little Wittman field at Oshkosh is for a while the busiest airport in the world. A narrow taxiway is turned into a temporary "runway"; often two or more planes may land on the same runway at the same time -- one pilot told to aim for a colored dot near the beginning, another at a dot a few thousand feet down, etc. A PDF of the FAA's "NOTAM" [Notice to Airmen] on how to survive this process is here; an exhortation to do it safely is here, and extra info here. An AVweb video of the whole scene from above is here.
Unsurprisingly, there is usually at least one bad Airventure-related accident each year. I am not aware of any fatalities yet this time, but the big news was the "pancaked" landing of a Premier Jet flown by Jack Roush, a NASCAR team owner. He and his passenger are injured but reportedly "stable." My point in mentioning it is a dramatic photo by Brian Flanagan of the plane as it veers away from the runway, toward a flopping landing on the surrounding grass, and also toward a group of photographers. (Click for larger and clearer version.)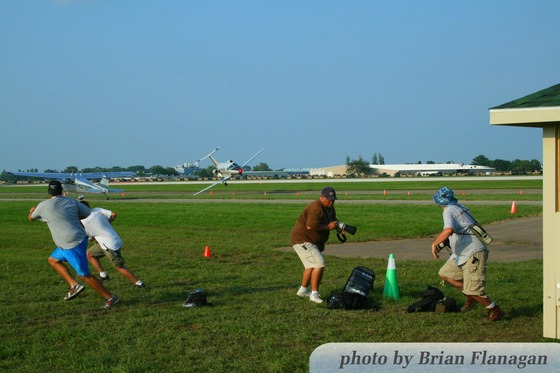 This and several other images by Flanagan, plus audio of the controllers talking to the plane, come from the indispensable AVweb,
here
. To me the drama of the photo is the varying split-second reaction of the onlooker/photogs in the foreground. The ones on the left are running for their lives, as the one on the right is preparing to. The one near the center is reaching down to get his bag. And of course Flanagan himself is standing somewhere in the vicinity to take this shot. One second earlier they all would have been observing just another in the endless stream of arriving aircraft, not knowing it was about to head their way. (In reality the plane stopped before it got to where they are standing, but they couldn't have counted on that at the time.)