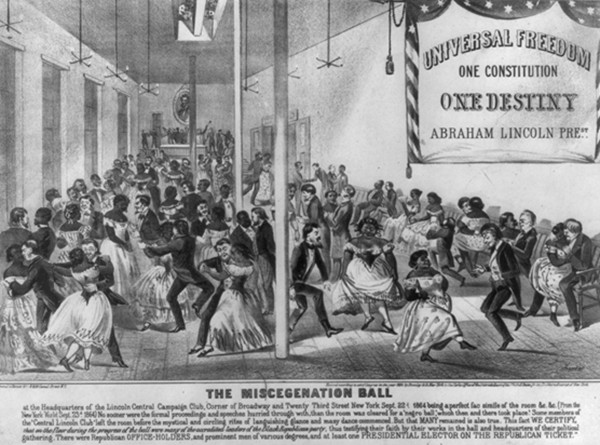 The text reads:
The Miscegenation Ball at the Headquarters of the Lincoln Central Campaign Club, Corner of Broadway and Twenty Third Street New York Sept. 22d. 1864 being a perfect fac simile of the room &c. &c. (From the New York World Sept. 23d. 1864). No sooner were the formal proceedings and speeches hurried through with, than the room was cleared for a "negro ball," which then and there took place! 




Some members of the "Central Lincoln Club" left the room before the mystical and circling rites of languishing glance and mazy dance commenced. But that Many remained is also true. This fact We Certify, "that on the floor during the progress of the ball were many of the accredited leaders of the Black Republican party, thus testifying their faith by works in the hall and headquarters of their political gathering. There were Republican Office-Holders, and prominent men of various degrees, and at least one Presidential Elector On The Republican Ticket.
The irony is painful. "The Black Republicans" was a slur constantly employed by "Peace Democrats," and seccessionists who charged that Lincoln's real aim was the subjugation of the "Southern race" under savage Africans, accompanied by mass miscegenation. In point of fact, arguably no group did more for the cause of miscegenation than "the Southern race." There's a reason the kid is red.
But the point is that this business of changing the subject--of appealing to white fears--is (in this country) as old as white racism itself. Better link
here
.
A better view of this one
here
. The text reads:
A black woman (left), "Miss Dinah, Arabella, Aramintha Squash," is presented by abolitionist senator Charles Sumner to President Lincoln. Lincoln bows and says, "I shall be proud to number among my intimate friends any member of the Squash family, especially the little Squashes." The woman responds, "Ise 'quainted wid Missus Linkum I is, washed for her 'fore de hebenly Miscegenation times was cum. Dont do nuffin now but gallevant 'round wid de white gemmen! . . . " 




A second mixed couple sit at a small table (center) eating ice cream. The black woman says, "Ah! Horace its-its-its bully 'specially de cream." Her companion, Republican editor Horace Greeley, answers, "Ah! my dear Miss Snowball we have at last reached our political and social Paradise. Isn't it extatic?" 




To the right a white woman embraces a black dandy, saying, "Oh! You dear creature. I am so agitated! Go and ask Pa." He replies, "Lubly Julia Anna, name de day, when Brodder Beecher [abolitionist clergyman Henry Ward Beecher] shall make us one!" 




At the far right a second white woman sits on the lap of a plump black man reminding him, "Adolphus, now you'll be sure to come to my lecture tomorrow night, wont you?" He assures her, "Ill be there Honey, on de front seat, sure!" 




A German onlooker (far right) remarks, "Mine Got. vat a guntry, vat a beebles!" A well-dressed man with a monocle exclaims, "Most hextwadinary! Aw neva witnessed the like in all me life, if I did dem me!" 




An Irishwoman pulls a carriage holding a black baby and complains, "And is it to drag naggur babies that I left old Ireland? Bad luck to me." 




In the center a Negro family rides in a carriage driven by a white man with two white footmen. The father lifts his hat and says, "Phillis de-ah dars Sumner. We must not cut him if he is walking." Their driver comments, "Gla-a-ang there 240s! White driver, white footmen, niggers inside, my heys! I wanted a sitiwation when I took this one."
They're still changing the subject, but the irony here is less painful--these racist fucks basically conjured Barack Obama up! My God. What's that old Chris Rock joke? Whatever you hate, that's what you'r kids will marry. Exactly what they feared happened. And then so much worse.
All of these cartoons were drawn when the 1864 presidential election was in full swing. Lincoln had emancipated the slaves. There were black soldiers fighting and occupying the South. I don't know if in anyone election there's ever been more at stake.