BP's Slippery Cleanup Effort
A reporter visiting an oil-soaked Louisiana beach finds more red tape than shovels
The day after President Obama's visit to Louisiana's Grand Isle Beach, Grand Island Street Superintendent Christopher Hernandez invited members of the media to see firsthand that BP is hardly doing all it can to clean up the oil.
The 600 workers whom BP had bused in to clean the beach for Obama's visit were not bused back the next day. A small group arrived at 8:45 a.m., put on white suits, and got out equipment. They began to work at 9:45 a.m.; at 11 a.m., they left for lunch; by 2 p.m., there was still no sign of anyone returning to the beach. Hernandez was outraged. He began his log for the day by writing the word "Shame" across the top.
Hernandez insists that BP is trying to control the media and local officials. He was dumbfounded when he was barred from stepping onto the oil-polluted beach without having his hands and shoes decontaminated. He found it absurd that his slightly soiled shoes could make the beach worse. It seemed there were more workers trying to control beach access than cleaning up the oil.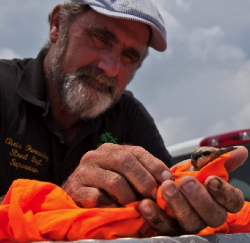 While Hernandez was being interviewed by a New Orleans TV station, I wandered along and found a small bird stuck in the oil, with minnows left by its mother who was circling above. Hernandez rescued the bird, and I told him about a bird cleaning facility at the end of the island. We drove the bird there and got chewed out for rescuing it with our bare hands.
At 3 p.m., I returned to the beach, where workers had abandoned shovels and oil collected in plastic bags. Though lunchtime and any threat of bad weather were long past, there was no one on the job save some BP contractors policing the beach. Within minutes, two men in a beach buggy were following me. They blocked my way and told me I would have to wait until a crew came to decontaminate me. I asked them whom they worked for, and they told me vaguely that they were under the umbrella of BP.
We all want the beaches cleaned and wildlife preserved. Obama understands this well enough to stake his political capital on a promise to make the coastal areas whole again. And BP--in the middle of arguably the worst PR crisis in the history of the oil industry--presumably has an interest in doing everything they can to mitigate the damage. Indeed, they insist precisely that "we're doing everything we can." But spend a day on the Gulf Coast and you'll see that actions--or inactions--are speaking louder than words.