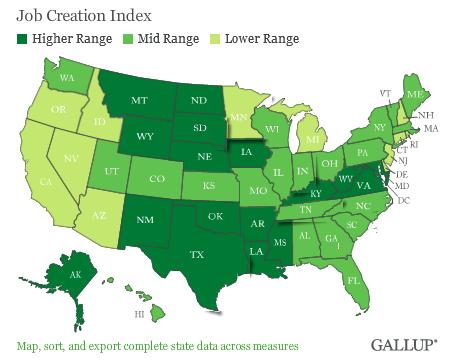 Here's a map of job creation from The Gallup Organization. It's based on approximately 100,000 Gallup Daily tracking interviews conducted throughout 2009 with employed adults in all 50 states plus the District of Columbia. It provides a clear picture of the evolving economic geography of The Great Reset.

On the losing side of job creation, the Rustbelt states, especially Michigan and less so Minnesota, continue to be hard hit, along with the "housing-crash" states of Nevada, California, and Arizona. Northeastern states--Rhode Island, Delaware, New Jersey, Connecticut, and New Hampshire--also fare poorly. In the west, Oregon and Idaho also see low rates of job creation.

The best-performing states in terms of job creation are energy economies--North Dakota, Louisiana, West Virginia, Oklahoma, Texas, Alaska, and New Mexico, as well as Nebraska; and those with economies that benefit from federal spending are Maryland, Virginia, and D.C. More here.
Photo courtesy of The Gallup Organization