In Memory of Ms. Lucille Clifton
"I'm going to tell you folks about a woman that changed my life in ways that words couldn't really measure."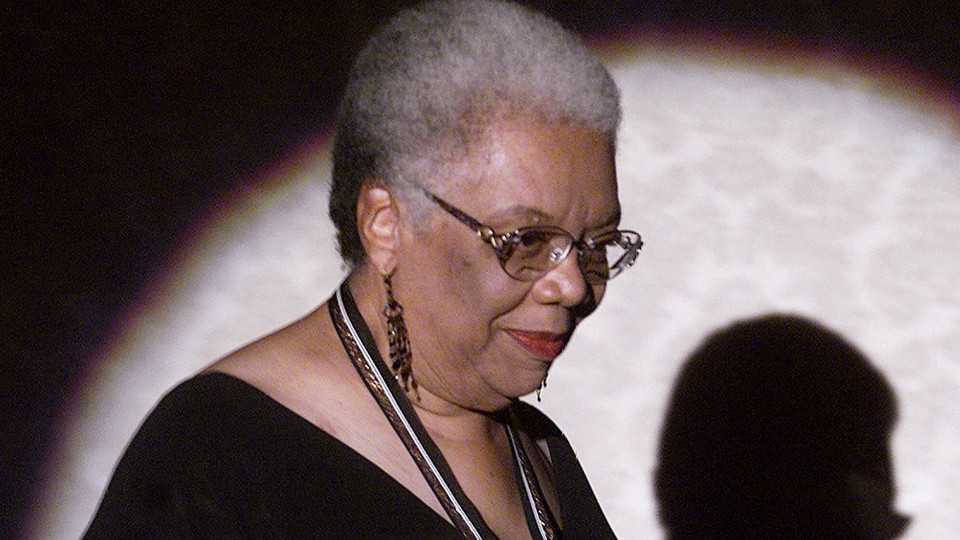 Ta-Nehisi has given me the honor of blogging for him again, and by way of introduction I'm going to tell you folks about a woman that changed my life in ways that words couldn't really measure. Who am I? Reginald Dwayne Betts. Husband, father of a little boy, poet, expert spades player (best on the East coast by some accounts) expert ish talker, etc. Who am I? Forever indebted to Ms. Lucille Clifton, and regretful that far too often the women we love pass and maybe, don't get to hear how they've changed, shaped, contributed to who we are.
So the question some of you are probably asking is who is Lucille Clifton. I'm hoping many of you know, but for those who don't, I hope you find this a good way to start a morning, or afternoon, or whatever. Lucille Clifton was an American poet. Born in Buffalo in 1936, she went on to accomplish just about everything a poet could dream of: National Book Award winner for Blessing the Boats, only poet to have two books as finalist for the Pulitzer Prize in one year, winner of a Ruth Lily Award and countless honorary degrees. Ms. Clifton published 11 books of poetry, twenty children's books—and was just a force in the lives of many to have met her. Yet these are nothing but facts, and Ms. Clifton was once quoted as saying there is a difference between facts and the truth. Well, let me tell you my Lucille Clifton story, let me tell you my truth.
I met Lucille Clifton in 2006. I'd been out of prison for roughly a year, and found myself at the Cave Canem writing retreat. That year, Ms. Clifton was the special guest. So, early one morning all of us rose and were in this decent sized room waiting to her here speak. There were 54 black poets there. And I'm there too, excited, not knowing if I belong—but excited, cause I know that the words of the woman coming to the stage guided me through the darkest of dark nights. And there is no real way to thank a person who you met through literature when the world was falling down on your head, no when you had pulled the world down on your head. So, I'm excited right, sitting in the front row unashamed for the first time in my life of being this bookworm, half cool, half poet cat. I've never really been captivated before, but I'm there and it's like I'd found my way into a dream that couldn't have been true. You have to understand I'd been loving this woman's work for a good decade, that it was a crucial piece in my figuring out how to be a man in prison. But more than that, just to be frank, dudes coming out of prison don't expect to be certain places, and siting before Lucille Clifton was one of them. Anyway, I proceeded to ask her 411 questions about her work. I mean about specific poems that dating 10 and 20 years old. She was so damn gracious. I mean, she'd look at me like— know your hand isn't up again, and then she'd call on me. And smile. Or laugh. It was one of the few moments in my life when I was utterly grateful. The woman was awesome.
At that time, I hadn't cried in about a decade. Taught myself to be stone. But leaving from her talk, I found myself breaking down. I mean bawling.
I've been fortunate enough to be able to take my son to see her read twice. And each time he was cool, kicked back and kind of listening, kind of running around. I mean he was like six months and 18 months at the two readings, but I'm just fortunate that he was there and that he has a picture.
People often talk about the power of poetry—and for me, I've found it most apparent in the way some people have a spirit that pulls you. A lot of people were touched by Ms. Clifton. To be a poet, and leave this earth with one person outside of your blood to care about what you've written is a gift—to leave and have a legion of teary eyed, all age range, all race—just regular folks mourning your loss and thanking whoever they thank for your gift is an amazing thing. And really, what I'm thinking now is, may she find her way home.
I'm a end this with two poems. Just got an email from Ta-Nehisi and he wanted me to mention this poem "Sign" and I have to mention "the times":
by Lucille Clifton
when the birds begin to walk
when the crows in their silk tuxedos
stand in the road and watch
as oncoming traffic swerves to avoid
the valley of dead things
when the geese reject the sky
and sit on the apron of highway 95
one wing pointing north the other south
and what does it mean this morning
when a man runs wild eyed from his car
shirtless and shoeless his palms spread wide
into the jungle of traffic into a world
gone awry the birds beginning to walk
the man almost naked almost cawing
almost lifting straining to fly
"The Times"
it is hard to remain human on a day
when birds perch weeping
in the trees and the squirrel eyes
do not look away but the dog ones do
in pity.
another child has killed a child
and i catch myself relieved that they are
white and i might understand except
that i am tired of understanding.
if these
alphabets could speak their own tongue
it would be all symbol surely;
the cat would hunch across the long table
and that would mean time is catching up,
and the spindle fish would run to ground
and that would mean the end is coming
and the grains of dust would gather themselves
along the streets and spell out
these too are your children       this too is your child