Calling All Intellectuals: Be Public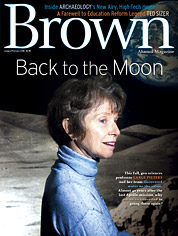 From a short
essay of mine
that appears in this month's
Brown Alumni Magazine
:
More than ever, we need public intellectuals willing to bridge different worlds. As complexity threatens to overwhelm us, an increasingly distracted public needs to understand how genes really work, how markets can be both encouraged and reined in, how history teaches us about politics . . . .



Whether we like it or not, we need more sound bites--and more creative metaphors and clever narratives. Intellectuals should spend as much time tuning their work for public consumption as they do composing for their own kind.
To read the entire thing,
click here
.
Photo courtesy of Brown Alumni Magazine