High Price of Oil Drives Amish Switch to Propane Gas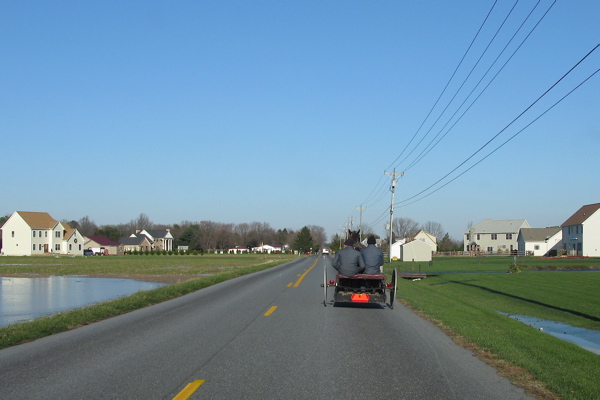 Driving the back roads near Dover, Delaware, I contemplate how to make my approach. In the six months I've spent traversing the nation, it has been rare to encounter reticence--no matter how abruptly my notebook and probing questions accost a person's normal routine. Given the insular reputation of the Amish, however, I'm nervous they won't respond as favorably. Thankfully, my naive assumptions prove incorrect.
 

Consumerism is a dominant force in mainstream American life. Consumer spending provides fuel for a vibrant economy, though an untrammeled consumption ethic can also lead to financial disaster. An insatiable desire for material goods has trapped too many Americans in a debtor's vise, drawn by the allure of a bigger house, nicer car, or flatter TV.
Our American Dream has abandoned philosophical roots deeply embedded in notions of liberty and self-determination by morphing into a set of glittering shackles formed of pins and links with names like MasterCard, Wells Fargo, and Fannie Mae. Handcuffs branded with the logo of this season's hottest designer have become most highly sought. Everyone wants a pair.
I've been thinking about the Amish because I've wondered how much their religious and cultural rejection of materialism had insulated their communities from the harshest effects of the recession. As I learned talking to Eli and Salina Yoder at their home goods shop, Shady Lane Selections, Amish families may not have overextended themselves on credit, but they have not been immune to the recession's impact.
A little over a month ago, ministers of the nine Amish church districts in Dover brought their congregations an important matter for discussion. The religious leadership had been debating the high price of fuel oil the community has used to light and heat their homes for generations, and had ruled that it would be permissible to make a switch to more economical propane gas.
"The ministers get together to discuss and then every church district discusses the idea to give everyone a chance to voice their objections," Eli explains. "There really were no disagreements this time. Some had complaints because any kind of change is always a major thing. But if 80 percent decide in favor of the change, then it goes forward. I think this one was more like 90 percent."
The Yoders immediately hired a propane gas company to install the pipe work and sockets throughout their shop. "We have lights now," Salina says with a smile, pointing up to an L-shaped metal pipe capped with a mesh bulb. Their daughter Mary Ellen climbs onto a chair, touching the pipe's end with a small gas torch, heeding her father's warning to not turn the gas too high. A piercing white illumination banishes the darkness that had begun to set in as dusk crept across the room's skylights.
"We thought we had a bright light to begin with, but now we have an even brighter light," Salina says. The quality of light they will enjoy by transitioning away from oil lamps is made more brilliant by the money they will save on fuel. Eli reports that they usually paid $5.95 a gallon for Coleman fuel, but propane costs just $2 a gallon and only requires a slightly higher quantity of usage.
They haven't invested the money to put gas lighting into their house yet, but did install a gas water heater. The full renovation to add the gas pipes into the house may have to wait until economic recovery makes their finances more secure.
The Yoder's shop, which sells handmade quilts, crafts, wood furniture, cuckoo clocks, cookware and other various odds and ends, has had an 8% decline in sales this year--not enough to worry them about going out of business, but enough to feel the pinch.
Eli's carpentry business--Eli Yoder Construction LLC--has also taken a hit from the lack of demand for new building. "I've had to lower prices dramatically just so we can make a paycheck. We've pretty much stayed busy throughout all this, but it's been pretty stressful to keep it there." He hasn't had to lay off any of his six employees, which include his son and one son-in-law, but the margins have been tight.
With both the construction business and the family shop, the Yoders say things have started to pick back up in recent weeks, making them optimistic that economic recovery has begun. "I know it's going to get better," Eli says. "It can't get much worse."