Heroin Seeping Into Rural Communities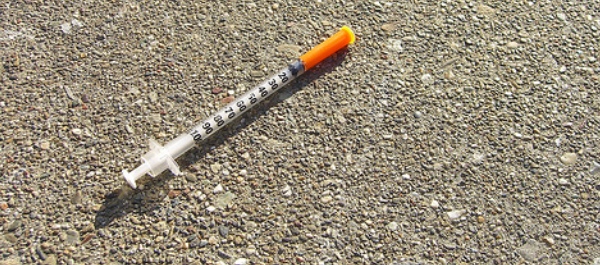 Discretionary spending has declined dramatically while the price of consumer goods has risen. This simple recessionary formula struck a hard blow to manufacturing across the country. But in rural New Jersey, one vile product has enjoyed a surge in demand and a steep drop in retail price.
"Heroin has become quite prolific here in the past two years," says Capt. Andy Russo of the West Milford Police Department.
The township of West Milford spans more than 80 square miles of northern New Jersey. Passengers on flights en route to JFK airport some 60 miles to the southeast would see only a thicket of forest dotted with more than three dozen lakes, though nearly thirty thousand residents live along rolling lanes crisscrossing the rural community.
In his 25 years with the West Milford police department, Russo doesn't remember encountering heroin until the past couple of years. It's just not that kind of town. "It used to be alcohol or marijuana, or maybe some cocaine, until cocaine got too expensive," he says.
Earlier in the day, before my arrival in West Milford, Russo had been looking over a survey request from the Department of Justice's National Drug Intelligence Center. "This is the first time ever I'll be listing heroin as a problem," he tells me.
I chose West Milford as my destination for New Jersey because of an alert the police department put out in September warning residents to be aware the community was experiencing a rash of burglaries. One could logically assume such an uptick would result from the current economic conditions, but that kind of trend surprisingly hasn't been detected during this recession.
For the most part, statistics in communities across the country have indicated a decline in crime over the past year. In most areas, violent crime has seen the steepest drop, but property crimes have subsided as well. The numbers are confounding experts, who largely predicted the increased unemployment and financial stress would spark a crime wave.
In West Milford, after enjoying a 19 percent decrease in burglaries in the first two quarters of 2009--as compared to 2008 numbers--the third quarter saw a spike exceeding the same period last year by 18 percent. In raw numbers, West Milford only had 39 burglaries from July to September, but they were all closely concentrated in the same part of town, which indicated a very localized problem. The incidents also bore the same characteristics--daytime break-ins with a hurried grab of anything valuable within eyesight. These clearly weren't professionals.
The police department have since arrested four local residents allegedly responsible for the rash of burglaries. All are addicted to heroin. The smash-and-grabs were solely to support their drug habits.
Russo suspects the recent robbery of a pizza-delivery person resulted from the need for cash to satisfy a heroin craving. Also, in late October, West Milford police arrested two individuals who were allegedly dealing heroin late at night from a static position in front of a closed restaurant. Capt. Russo seems confounded. "You wouldn't think of rural West Milford as a place you'd find large amounts of heroin, but it's become so accessible and so cheap."
Russo figures that eight or 10 years ago a "hit" of heroin might cost $7 or $8 dollars in Paterson, New Jersey or New York City. In today's market, people drive to Paterson or NYC to buy hits for $3, which they re-sell locally for $6.
It's not even the number of heroin-related incidents in West Milford that gives Russo his insight into the current rapid expansion of the rural heroin market. The information offered up by those who've been arrested has given the local police an eye-opening view into a much larger problem lying just below the surface. "We're not isolated in this. It's happening in New York and New Jersey, suddenly in the rural communities," Russo warns. "It's a statewide, area-wide problem, in about every town I can think of."
State authorities have just begun to grasp the notion that drug trends are heading in a dangerous direction. Last month New Jersey launched Operation Medicine Cabinet, an initiative to encourage residents to turn over their prescription drugs for safe disposal. "They've made a connection between prescription drugs and heroin," Russo explains. "Prescription pills are becoming the gateway drug."
Research has determined that teens get drawn into drug use by first raiding their parents' medicine cabinet. Maybe they start taking long-expired and forgotten oxycontin, vicodin, or diazepams. Sometimes they join friends in pill parties, when everyone tosses whatever they can scrounge up into a candy dish, then close their eyes and pop whatever med they draw.
For some, the "fun" leads to addiction. Once the family medicine cabinet has been cleaned out of narcotics, the new addict starts seeking a source for purchasing their drug of choice. Since the street price of oxy can run $40 to $80 per pill, that can become a very expensive habit. Heroin makes for a much more economical addiction, and is very often more widely available for purchase.
"I wouldn't call it an epidemic yet," Russo concludes. "But we obviously need to pool some resources to do something about it before it gets worse."
Problematically, this nascent surge of heroin into rural areas is coming at a time of recession-tight budgets, when the communities affected have no additional resources to pool.
(Photo: permanently scatterbrained/Flickr)