Brothers Tartamella: Newly Trained "Caulkers" Ready for Cash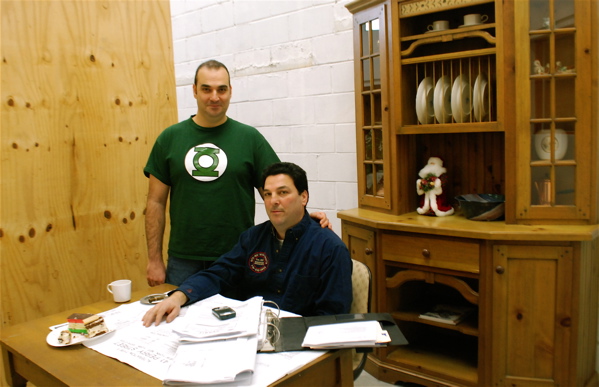 "I wear this T-shirt because his superpower was will power," James Tartamella tells me, pointing to the Green Lantern symbol on his chest. "The greatest green energy is the green energy within us." James and his brother Joe each suffered a direct hit from the recession, but are rapidly adapting to seize opportunities created by the swelling wave of green jobs.
The brothers Tartemella are sons of Italian immigrants, whose parents left Sicily in the 1950s to seize the opportunity of America. Both credit their father for endowing them with a relentless drive and tireless work ethic. "To this day, I don't know anyone who works as hard as my father. I don't care what nationality they are," Joe says.
After a full day building sets at ABC, the elder Tartamella would come home and take a 15 minute nap lying on the living room floor. Mother served dinner at 5:00: "Not 4:59. Not 5:01. Dinner was ready at 5:00," James recalls.
From 5:20 to 10:30, their father would be in the basement with his saws and sanders, practicing the woodworking craft he learned from his brother back in Sicily. The work brought another stream of income into the house, and orders were always pending for the sturdy handmade cabinets and shelves he created. "I wanted to watch cartoons on Saturday mornings, and there's always saws and drills going off," James recalls. "From 8 am to 4. On Sundays, he'd rest. Sometimes."
Joe was first drawn to woodworking because it allowed him to spend more time with his father. In their neighborhood of Bensonhurst, the wave of Italian immigrants arriving after World War II brought with them an Old World practice of informal apprenticeships. Bensonhurst boys were expected to begin learning a trade from someone in the neighborhood before they even hit puberty. Joe chose to learn woodworking from his father.
"I liked to learn. I wanted to spend my time with him. I liked spending time with him. So I became a woodworker. A tradesman. That's what I am," Joe explains.
Joe was barely out of his teens when he launched an independent woodworking business, Rite-Way Wood-Crafts, twenty-four years ago. I meet up with the brothers at the Rite-Way office and workshop, so Joe clearly made good use of the skills passed down by his father. If the recession hadn't decimated demand for his custom-built cabinets and furniture, Joe would have kept at his craft until retirement.
Always more talented with his mind than his hands, James chose the path to law school instead. He passed the bar and would have become a lawyer too, if he hadn't been struck down by non-Hodgkins lymphoma. Twice.
James spent first half of the new millenium fighting cancer and insurance companies. He beat the cancer, but lost his battle with insurance. Despite having two separate insurance policies with different companies, which should have created a comprehensive coverage package, he was determined responsible for 20% of his medical expenses. Unable to pay nearly $200,000 in bills, since he was in recovery and unable to work, James declared bankruptcy in 2004.
Though still suffering from lingering health troubles, in 2005 James began working as a mortgage broker in California. He specialized in re-financing mortgages until the California housing market began to decline. James was laid off in late 2006. He moved back to New York and into his old bedroom at his parents' house in Bensonhurst.
James did manage to land a job in Brooklyn as a real estate appraiser, but was laid off again in August 2008 after the New York market tanked.
"Oh my god, I'm 38 years old and still living with my parents," James groans.
"Eh, at least you have somewhere to go," his older brother counters.
"Yes, at least I have a roof over my head," James concedes. "I'm very, very lucky."
It's not just the roof, but also his mother's cooking that makes him lucky. James grabs his belly to demonstrate physical evidence of 20 pounds he has put on since moving back home, listing his mother's meatballs and spidini as causes. "And a chicken cutlet parm like no else," Joe adds.
The conversation makes me hungry. Thankfully, James and Joe brought a box of cannoli from Vito's Bakery. James says of the many lessons the economy has taught, he always likes to share one nugget of wisdom with people: "Cannolis makes the recession much more bearable."
Joe did his own return stint in his parents' home when his business slowed during the 1990s recession. For five years, he lived in his parents' one-room basement with his wife and two children. "We hadda be very creative," he chuckles.
Now a homeowner himself, Joe can't just move his family into a Bensonuhrst basement to make it through the hard times. When his woodworking business began to feel pinched by the declining economy in late 2008, Joe started seeking ways to cut back on expenses. His research led him to solar panels, and a revelation about the state and federal tax incentives that can make them a cost-effective investment.
Thinking about his own personal circumstances led Joe to an epiphany about the bigger picture, as he explains: "The 2006-2007 spike in gas prices cost my business over $5000 a year. Multiply that by the number of people in this country that own small businesses and that would be billions of dollars. That's money that should be in the pockets of the American people. For me, solar panels and other cost-saving methods for American families and small businesses should be a national priority."
During conversations with the solar panel entrepreneurs, Joe became electrified by the imperative of reducing financial burdens of unnecessarily excessive energy consumption. When one of his new "green" friends told him that the government would reimburse his expenses for training to learn about assessing a building's energy leakage and the array of environmental and cost-saving fixes, Joe saw the door open on a rewarding career opportunity--one that could help pull him and his brother out of their personal recession slump.
"I hate monopolies--utility companies, oil companies. They rip off the average person," Joe explains. "What are you going to do when they raise the price of gas? There's nothing you can do! There's a direct correlation between the oil company profits from 2006-2007 and the debt of the American people. Now I don't like being ripped off. This is something I can do to help people save money. To keep money from those mega-corporations. To keep that money in the neighborhood."
James's excitement and motivation about the new career direction goes beyond the logic of cost-savings and energy conservation: "There's a direct link between having clean air in your home and good health. As part of an energy audit, we'll address leaky heating units and air quality. Most carbon monoxide detectors don't work until you're dead. No one knows what caused my cancer, but environmental pollutants can be a huge contributing factor. So as a cancer survivor, this is very important to me. For me, this is a quasi-religious undertaking."
Since James had no family or business to occupy his time, he signed up for a class first. He started in March to determine if they could really have a future in the energy auditing profession. "I loved it. I thought it was great," he recalls. So Joe joined his little brother to pursue the new job training too.
The brothers are going through a phase of classes organized by the Building Performance Institute, a nationwide training and certification organization launched in the 1990s to raise standards of energy efficiency. Each of the three classes the brothers have taken this year would cost around $1800 out of pocket, but the  New York State Energy Research and Development Authority (NYSERDA) reimburses them out of funds collected through the state's Systems Benefits Charge, which adds a few cents to residents' electricity bills.
On Thursday, the brothers will take their field test--the final hurdle to becoming BPI-certified building analysts and envelope specialists. I had to interrupt a study session to talk to them about it.
What they've learned through the training program is how to assess a building's performance in terms of its energy efficiency. The biggest energy draw for any building tends to be from its heating and cooling system. A home audit would begin with a diagnostic test first to determine the source of leaks.
Many homeowners believe window replacement to be the most critical investment in weatherizing a house, but the Tartamella's have learned that can be one of the least cost-effective solutions. "Windows are so expensive," James explains. "People think they're the biggest source of leaks because they can feel the draft, but they're actually such little spaces when you're looking at the house as a whole."
The most ideal holistic solution for increasing a home's energy efficiency begins with its insulation. "We assess how we can create a continuous boundary separating the inside from the outside. How do we create a wool blanket to cover the whole house," James explains.
For residents who aren't ready to undertake a major retrofit insulation of their homes, smaller simple quick fixes can have some impact--such as insulating a water heater or plugging holes in duct work. In addition to assessing a home's energy losses, energy auditors will also look at reducing consumption through more efficient compact fluorescent lightbulbs and EnergyStar rated appliances.
"If there's one statement I could make on this subject, it would be this," Joe interjects, bringing the conversation back around to the biggest problem in building performance. "Ninety-five percent of builders and home improvement contractors do not know how to install proper insulation and air sealing." Joe speaks from direct experience because the expanded portfolio of his woodworking business has involved contracting for building and remodeling. "What I've learned now I wish I knew years ago because I see the mistakes, the ignorance, of how we've been insulating homes for so long."
Improving a homes insulation can be an expensive renovation, but it will also provide the biggest return on the investment. With designated subsidies in the American Recover and Reinvestment Act, homeowners and businesses can receive significant financial reimbursements and tax credits for having work done to improve energy efficiency. New York's Weatherization Assistance Program has already distributed more than $200 million of the nearly $400 million in federal stimulus funds the state received.
One complication to the massive and still growing demand for weatherization services is the lack of professionals trained in the business. According to NYSERDA, there are slightly less than 400 BPI-certified building analysts in the state of New York. When James and Joe pass their field test and receive certification, they will be inundated with work opportunities.
"It's a rapidly growing industry," says James. "There's a huge demand and not enough energy auditors. It's really nice to have the wind at my back for a change."
With an abundance of demand and paucity of trained professionals, the state of New York is trying to harness that wind to put more residents back to work. In October, Governor David Paterson signed the Green Jobs/ Green New York bill, which provides more than $100 million for weatherization job training programs, and loan subsidies to further expand financial incentives for homeowners to commission the services of these re-educated workers. Under the plan, New Yorkers will pay back the home improvement loans based on what they save from their energy bill. New York's long-term goal is to retrofit one million homes in the state over the next five years.
Considering that very few homes in this country--even of the newest construction--have been effectively insulated and sealed, the potential for job creation is massive. President Obama has seized on the idea and announced on Tuesday that he will create a program to increase incentives for homeowners and small businesses to improve their properties' energy efficiency. Dubbed "Cash for Caulkers" in the media, the program specifics have yet to be outlined, but the price estimates being circulated range from ten to twenty billion.
After listening to hours of evangelizing by the brothers Tartamella, I don't see any compelling drawbacks to such a massive investment of US taxpayer dollars in a national weatherization program--as long as it is paired with effective oversight to prevent abuse and waste, and job training programs teaching the most modern standards and methods.
Joe and James think that many contractors are seeking ways to take advantage of new opportunities in weatherization, even if they're not fully educated in the most effective techniques for optimizing energy usage. An influx in subsidization for retrofitting without training workers in how to properly execute the projects would create job opportunities, but wouldn't maximize long-term benefits to the environment or energy bills of American homeowners and small businesses.
Whatever happens with cash for caulkers, the brothers Tartamella have already recognized the growing demand and are rapidly adapting their skill set to take advantage of a gap in the service market, moving into prime position to ride a swelling wave of green created by environmental awareness and cold hard cash. The only thing that could make them more optimistic about their future would be if a TV network wanted to buy a reality show about their new career endeavor. They've already settled on the name: The Green Gumbas.