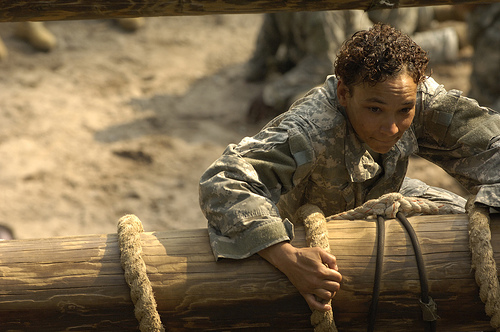 "The principle that women should not intentionally and routinely engage in combat is fundamental, and enjoys wide support among our people," the U.S. Senate declared in 1980.  In 1981, in
Rostker v Goldberg
, the Supreme Court relied on prohibitions of women in combat when it declined to strike down provisions of the Military Selective Service Act authorizing the mandatory registration of men, and not women.  "The fact that Congress and the Executive have decided that women should not serve in combat fully justifies Congress in not authorizing their registration, since the purpose of registration is to develop a pool of potential combat troops," the Court reasoned.     
The plaintiffs in
Rostker
had not challenged the ban on women in combat: The case had been initiated in 1971, when women were generally considered unfit for combat, or service as firefighters and police officers; the ERA, approved by Congress in 1972, would fall prey, in part, to concerns about a gender neutral draft and combat rules.  Conventional wisdom held (as one general
noted
in his congressional testimony,) that "women should not be placed in a forward fighting position.
Tell that to police officer Kimberly Munley, recovering from gunshot wounds received when she confronted alleged Fort Hood shooter, Nidal Malik Hasan.  Tell it to the women effectively engaged in combat in Iraq and Afghanistan.  Tell it to 53% of people who professed support for sending women into combat in a New York Times/CBS poll.  Most of all, tell it to Congress, which has yet to repeal, or seriously considering repealing, the legal exclusion of women from combat.  Sometimes the law is a sword for social change, and sometimes it shields the status quo.  Sometimes it's a battering ram and sometimes it's the wall.
(Photo: The U.S. Army/Flickr)