The Great Wall of Foreclosures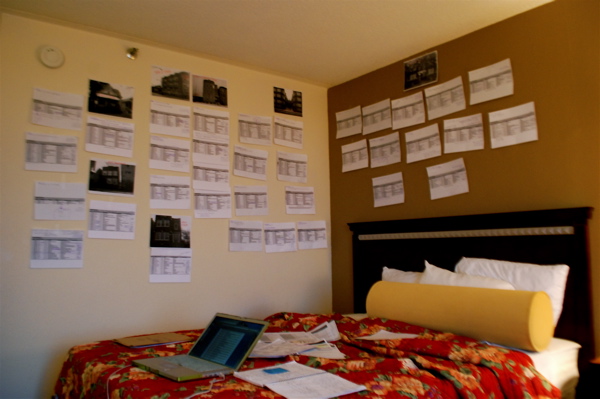 What began as limited exploration into a small example of possible mortgage fraud in Chicagoland has spiralled out formidable leviathanic tentacles now taking residence across two walls of my hotel room. I've looked progressively more pale and bewildered every time I venture out for sustenance, always stopping by the front desk to re-confirm that housekeeping will not touch my room. I ran out of clean towels yesterday. They probably think I'm cooking meth.


The full story about the apparent housing scheme I've uncovered won't be ready for public consumption today. I just had to take a photo of the great wall of foreclosures before I disassemble it. All the documentation, including my own notes, will be scanned so I can email to those possessing a more refined expertise on recognizing patterns of fraud.
The three properties a source originally led me to appear fairly straightforward examples of the kind of over-appraisal scheme Richard Hagar taught me about back in Oregon, but the apparent complexity of the big picture currently papering my walls boggles a weary mind. It involves whole buildings of condos once maintained and ready for inhabitants, now boarded up and vacant, rapidly falling into decrepitude--a kind of recession-era blight not uncommon in many communities across the country. Unscrupulous greed sloughs off these empty shells of human habitation far too often, which made it a challenge to even look away from my computer screen after jumping into the wormhole running through Chicago neighborhoods.
Even after five days of trawling public records, I feel like I've just entered the anteroom of a monstrous maze. When the full story is ready to post, I'll upload all my documents and notes with it, in case any readers want to keep digging.
For now, I need a shower.
But first, I need a clean towel.