Obesity has reached epidemic proportions in America. More than 72 million American adults are obese, according to estimates from the National Center for Health Statistics. But obesity varies greatly by state. The map below, from the Centers from Disease Control (CDC), shows the obesity rate for the 50 states, measured as the share of people with a Body Mass Index (BMI) over 30 which the CDC classifies as "obese."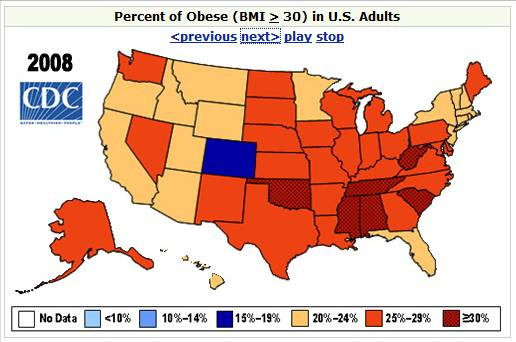 A week or so ago, I looked at the relationship between smoking and a variety of economic, social, and health factors. With a helpful analytical hand from Charlotta Mellander, we found that smoking was significantly correlated with obesity as well as being correlated with education levels, class structure, and other factors. So, we decided to take a quick look at the state-level factors that might be associated with obesity. We ran some simple correlations and scatter-plots between state obesity rates and these factors. As usual, we point out that correlation does not imply causality, but simply points to associations between variables. Still, a number of interesting things stand out.
It should come as little surprise that states with higher levels of obesity have significantly higher rates of death from cancer, heart disease, and cerebrovascular diseases like hypertension. There is a significant correlation between obesity and death rates from cancer (.7), heart disease (.7), and cerebrovascular disease (.7).