Massachusetts Budget Deficit Threatens Lifeline of Thousands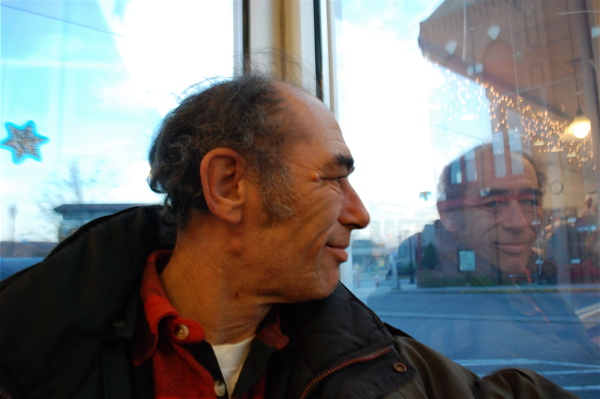 George speaks with slow deliberation, drawing out words in a manner that recalls an audio player in need of fresh batteries. He worries that stepping into the bathroom for a moment would be enough distraction to erase his memory of our meeting. George, 51, has required assistance to help him lead a productive and fulfilling life since being hit by a car at age 13. Learning new skills requires his concentrated effort, but George easily assumed the mantle of protester when state budget cuts threatened the mental health programs critical to his livelihood.
George Birk doesn't remember seeing the car that hit him in 1971, when he was a carefree 13-year-old riding his bike delivering newspapers. He doesn't remember rolling over its hood, crashing through its windshield, breaking the steering wheel with his head, then somehow ending up on the pavement more than 100 feet away from the wreck. He doesn't remember anything from the month-and-a-half coma from which doctors and his parents never expected him to awake.
Coming out of the coma with serious brain damage and partial paralysis on his left side, George had to relearn life skills like a newborn baby. After a year-and-a-half of rehabilitation, he was able to feed himself, walk with assistance, and speak, though only at a rate of one word every 30-60 seconds. The brain damage left him with Swiss cheese memories, though he vividly recalls the shame and frustrations of trying to express himself to people who didn't understand his problem. "They would say, 'Come on George Just spit it out.' But I couldn't. The words would fall out of the damaged part of my brain before they made it to my mouth," he tells me with a smile.
George knows he is different and handily employs self-effacing humor about his brain damage. Maybe the method began as a defense mechanism, perhaps as a way to put at ease anyone uncomfortable because he talks and moves a little slowly. Or he could be a natural born jokester riffing off obvious absurdities in his life.
During our conversation at Dunkin' Donuts, George keeps ribbing one of the employees, giving directions on what he thinks the guy should be doing with the place. "See I do think every once in awhile," George play shouts, winking at me. "Just not very often because it might become habit-forming."
Realistically, forming habits can be a challenge for George. He relies on assistance from the Crossroads Clubhouse in Hopedale to make sure his bills get paid on time, and his forms for disability and Medicaid are up-to-date. The social service organization, which is devoted to assisting the mentally and physically disabled, helps him keep his small rent-subsidized apartment tidy and makes sure he has clean clothes. They secured a part-time job that suits his mental capabilities and doesn't strain his physical limitations. If he can't pull himself out of bed one morning, overcome by the arthritis that has given him excruciating pain head-to-toe since his accident, Crossroads will send a substitute worker on his behalf, so George's job won't be endangered by absences.
Three days a week George cleans the parking lot of the Cancer Care Center in nearby Milford, a job he has held for a year-and-a-half, with support of the Crossroads Clubhouse. When he is done working, most days George will go by the Clubhouse to see if the office staff there needs any help. Crossroads does not require those people it serves to volunteer time at the Clubhouse, though many do. As much as the Crossroads Clubhouse provides practical assistance, George mentions that his past fifteen years with the organization has also given him a sense of belonging, a feeling of community like he never thought possible, and companionship with people facing similar day-to-day struggles.
On a Friday afternoon one month ago, Crossroads Clubhouse director Valerie Comerford received alarming news. As part of ongoing efforts to resolve the state's $600 million budget deficit, Commissioner of the Department of Mental Health, Barbara Leadholm, had placed on the chopping block Massachusetts's network of 32 "clubhouses," which provide critical services to 8,000 mentally and physically disabled residents like George. The outlined proposal would close the clubhouses, which cost the state just under $10 million annually, and replace them with drop-in day centers, which would run about $5 million. Though Leadholm never confirmed the plan publicly, members of the Massachusetts Clubhouse Coalition were alerted by state congressional representatives who'd heard her outline the proposal during budgetary hearings.
To save that $5 million, "The state would create a daycare with no support services, no quality of life, no rehabilitation," Comerford explains. "They would be places for people to go who have nothing better to do but sit around and smoke cigarettes." The clubhouses already suffered cuts early this year, but the threat of total closure would be disastrous for thousands who rely on their services.
Not only do the clubhouses provide job placement and a wide variety of life skills assistance--like filling out paperwork needed for subsidized healthcare and prescriptions--they also provide transportation to schools, professional training, and doctors and psychiatry appointments. With the loss of that critical support, the state would face increasing numbers of the mentally ill falling into unhealthy cycles that would require hospitalization. "It costs the state $1,000 a day to keep a person in a state psychiatric institution," Comerford says, which is where she fears many of the 200 clients served by Crossroads would end up if state budget cuts shuttered the clubhouse network.
Faced with the real prospect that their network may fall victim to recessionary budget crises, members of the Massachusetts Clubhouse Coalition commissioned buses to transport people to downtown Boston for a protest. Within days of hearing the bad news, about 800 mental health professionals, advocates, and clients of the state's 32 clubhouses were marching up Beacon Hill, beginning at the Department of Mental Health and ending on the steps of the State House. The result was victory for their cause--Governor Deval Patrick did not include clubhouse closure in his final schedule of proposed cuts designed to balance the budget.
"We've done rallies before, but this was our first real protest," Valerie says. "I can't tell you how thrilling it was to have battled to keep ourselves alive and to have won. It was one of the most affirming things I've ever participated in."
Still, Valerie cautions, the battle is not over. The governor's proposed budget is still being wrangled through the legislature, and the prospect of additional cuts looms over the future of the Crossroads Clubhouse.
George Birk, who had his first protest experience marching on the State House last month, may have a fuzzy memory about some of the budgetary specifics that demanded his urgent activism. But he leans forward and tries to focus his watery hazel eyes on mine to emphasize his certainty about one thing: "There's so many people in this community affected by the Department of Mental Health. More cuts would be disastrous."