Have Small Business, Need Health Insurance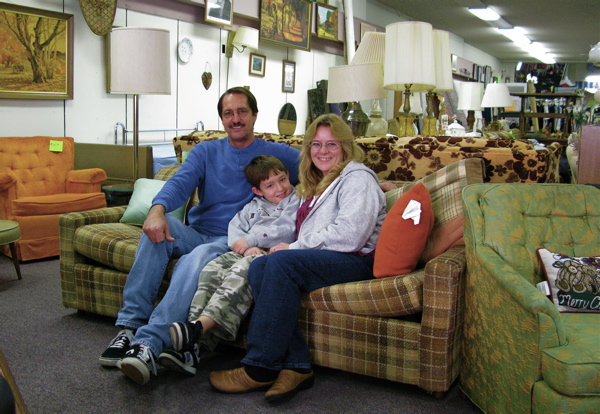 Darwin and Laura Moore know things could always be worse. The aneurysm Darwin had earlier this year may make him now un-insurable and unable to afford scheduled follow-up care, but it could have killed him. The area's 15% unemployment rate made it impossible to land any job, much less one with health benefits, but that steered the couple's path into achieving their dream of owning a small business--even if they had to finance its purchase with credit cards.
Most of the storefront windows of shops lining Main Street in Kendallville display flyers advertising charitable benefits planned to assist local residents facing major medical crises. One man needs a kidney transplant; another is suffering from terminal cancer.
I walk into Turnaround Bargains to inquire about the signs, explaining that I'm a writer traveling the country to document the recession's human impact and was wondering if these people had been laid off and subsequently lost insurance benefits before their health failed. The couple working behind the counter only bought the shop two weeks ago and didn't know the stories behind the flyers: "But that sounds like us," Laura Moore says with a wry chuckle.
Darwin Moore used to make a good income as a semi-truck driver--enough so the family never had to worry much about bills and Laura could be a stay-at-home mom for their three children (now 15, 12, and 7). "We used to be able to do whatever we wanted," Laura recalls nostalgically.
Then one Sunday evening in June 2008, just after they'd thrown steaks on the grill, Darwin's boss called with the bad news. The trucking company had gone bankrupt. After 12 years working a job he thought would last until retirement, Darwin was told the only reason to come in Monday morning would be to fill out paperwork for unemployment. "You have no idea how hard it was to chew those steaks," Laura remembers.
Faced with quickly rising unemployment in northeastern Indiana, Darwin and Laura both launched job hunts. In October, Laura landed a position in the business office of Indiana Tech--only part-time, unfortunately, since a full-time hire would require benefits. "Nobody wants to pay benefits if they don't have to," Laura says. "If they can get away with it, they will."
Darwin got a new trucking job in November, which did come with full benefits. The health insurance kicked in on day 60. On day 65, Darwin ended up in the hospital, rushed into emergency surgery for an aneurysm, which was caused by the growth of a cerebral malformation--a clustered tangle of blood vessels in his brain.
If the crisis had occurred one week earlier, hospital bills well into six figures would have pushed the Moores into bankruptcy and likely led to loss of their home. They couldn't have afforded any follow-up care.
An angiogram two weeks ago showed the aneurysm was growing again because of the cerebral malformation, but the doctor said it would create a bigger risk to address it surgically right now, deciding to just evaluate it again at Darwin's next exam. Unfortunately, Darwin won't be covered for any future angiograms, MRIs, or CAT scans.
Driving is not allowed to drive for one year after an aneurysm, so Darwin lost his trucking job after his health crisis. Their COBRA reduction period is coming to an end, so their standard COBRA premium will jump to $1,200 next month. "Unless Obama throws in something in the next month, I don't know what we're going to do," Laura says. They can afford coverage for her and the kids, but not for Darwin, who probably needs it most under the current circumstances.
"I'm uninsurable now," Darwin explains. Even if not rejected for a pre-existing condition, private insurers can use his medical history to justify unaffordable monthly premiums. Darwin says a couple of hours in the hospital for another angiogram, MRI or CAT scan would cost thousands of dollars. "Unless Obama gets his thing changed that he wants changed, I'm just not going to go back."
"We can't rack up medical bills like that," Laura explains. "It would sink us."
Rather than getting critical follow-up exams that would show whether or not his aneurysm is continuing to grow, "We're just going to have to hope for the best," Darwin says with a shrug.
"We can't afford for them to go back in and look," Laura adds.
If either of them could get a job that provided health coverage, Darwin would receive the scheduled monitoring that could prevent another major medical crisis, or worse. But few such jobs exist these days.
Laura just started a new position working as a teacher's aide at her youngest son's elementary school. Its added benefit is the schedule and convenience for picking her kids up after school, but it's also part-time with no health insurance.
Following his recovery, Darwin began looking for a new job in June. Despite his relentless campaign of applications for all variety of employment, he never even received a call back for an interview. In an area that suffers from 14-15% unemployment, "Every time there's an opening, there's 500 people there to apply for it."
He even began looking far beyond the borders of Indiana. I hadn't told him about Ben Robertson when he mentioned having looked at a North Dakota jobs website because, as Darwin echoed in a weird moment of deja vu for me: "I thought we're going to have to go where the jobs are."
Then in September he came across a Craigslist ad offering sale of the little thrift shop in downtown Kendallville, only 20 minutes from their house. "When we saw it, we knew it was what we wanted to do. We were real excited," Laura recounts.
The deal required they take over the lease on the shop space and purchase the store's entire existing stock for $14,000. They couldn't get small business financing for a cache of used goods, so they charged it. Unless they're late on a payment, the credit card interest rate should stay at 12.99%.
The balance will be paid off as aggressively as finances permit, though Darwin acknowledges they've taken a big risk: "But I figure if I'm gonna go broke sitting at home doing nothing, I might as well take a risk on going broke doing something big."
Considering the confluence of unfortunate events that eventually led them to this new opportunity, Laura believes the forces at play were more deliberate than happenstance: "God does everything for a reason, and steering you the ways things should go. Maybe this was our reason--so we could do something like this."
"I used to like to collect stuff, so this is kind of an adventure," Darwin says. They've cut prices to move a larger volume of goods, and plan to raise the quality standards of their stock. If they maintain the level of sales they've had in the past two weeks, the business should do just fine.
The Moores are ambitious, hard-working, and optimistic about their future. Their only major anxiety these days stems from concern for Darwin's health and their inability to secure affordable private insurance for him.
As the health care debate in Washington rages on in the abstract, for Darwin and Laura--and millions of others like them--the consequences could be painfully personal. As Laura explains: "You hear people complaining about the health care reform and you want to say walk in our shoes for awhile. Walk in the shoes of someone who has lost their benefits."
NOTE: Some readers may have noticed I skipped forward to Indiana without posting my massive story exposing alleged mortgage fraud and shady real estate dealings in Chicago. Don't worry, that piece will be forthcoming. Since it contains allegations about criminal wrongdoing, it must go through fact-checking and legal review before posting.