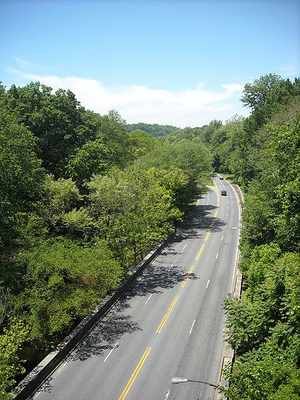 Today, we take it for granted the streets are there to move cars, and also to carry buses as well as cyclists, pedestrians, and the occasional skater, scooter-rider, and Segway user. The typical solution is to keep pedestrians on the sidewalk and paint lanes on the street to separate cars from cyclists or create express lanes for buses.
But maybe there's another approach: Why not consider devoting different streets to different kinds of transportation? And surely cities need more green space and some are actually getting it. Inspired by the High-Line Park, by DC's Rock Creek Park, and Toronto's extensive ravine system, I have been noodling about the possibility of creating linear green belts or what I like to think of as sliver parks through cities. I literally feel this when I walk through Toronto's ravines, or in the past when I cycled through D.C.'s Rock Creek Park. It provides a natural environment in the city and creates green zones for cycling, walking, picnicking, or other activities. But I thought this is far too pie-in-the-sky to actually be implemented or even proposed.
So I was more than pleasantly surprised to see The New York Times' Nicolai Ouroussoff highlighting just such an approach coming out of  a nine-month design competition for the Bronx's "faded" Grand Concourse.
A proposal by the New York office of the international design firm EDAW that would create a strip of communal farmland down the middle of the Concourse verges on cliché. But it improves when you keep in mind the grittiness of some of the urban gardens in New York or Berlin and imagine them stretched out along several miles. A new light-rail line would run the length of the boulevard; traffic would be reduced to two lanes in each direction, down from the current six.

A raucous proposal by the French team Nadau Lavergne Architects would pile more activities on top of existing structures to add density to the neighborhood and create unexpected urban frictions. Schools and cultural institutions would be stacked over apartment complexes, freeing up the street level for commercial use. A graffiti-covered streetcar would run up and down the Concourse, linking it to Manhattan. The Concourse would be packed with trees, transforming it into a linear urban forest.

Part of what is moving about these proposals is that their approaches have become so familiar. Not long ago the notion of building farmland in the middle of a busy urban roadway would have seemed like madness; today it seems too obvious. So does the idea that segregating urban functions can drain the life from a city.
Check out the terrific images from the project website, including this slide show. A full gallery of all the submitted projects is here.

Photo Credit: Wikimedia Commons