Downtown Rutland: When Empty Means Opportunity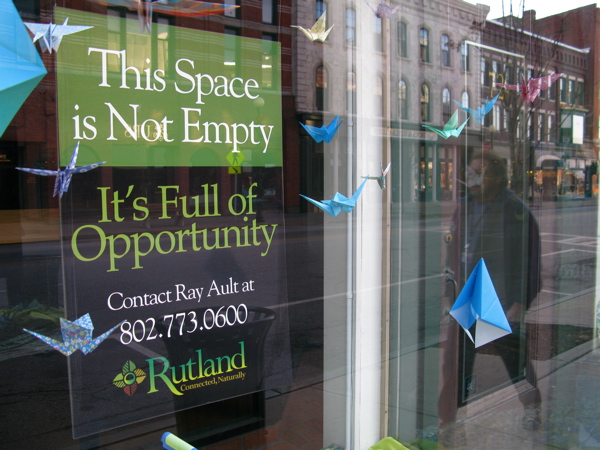 While making my initial wander around Rutland, Vermont asking about the recession's local impact, I receive the same basic response from a man pumping gas at the Hess station, a cashier at Hannaford Supermarket, and the scooper at Ben & Jerry's: "Have you seen downtown?"
Merchant's Row in adorably quaint downtown Rutland does appear somewhat devoid of actual merchants. "For Rent" signs hang in roughly half the storefront windows. Visible in the dim interiors, remnants of former mercantile identities suggest a fairly recent exodus.
Despite the beliefs of ten local residents I asked, however, downtown Rutland doesn't appear to solely represent an example of the recession's destructive powers. Rather, the example of Rutland represents how the specter of recession has morphed into an omnipresent boogeyman blamed for everything bad.
After fifteen years on Merchant's Row, Tattersall's Clothing Emporium is still "holding on," says owner Christine Tattersall, though doing so has required innovation, adaptation and a slow evolution to develop a niche in women's active wear.
According to Christine, downtown commerce began to feel increasingly pinched over the past decade as big chain stores opened up on the outer ring of the community and local shoppers increasingly turned to the Internet. The downtown shops could still count on meandering tourists for business, "but when that stopped, things were more difficult."
Even though the recession caused that decline in tourism, Christine ticks off a host of individual reasons behind a rash of retail closures over the past two years. Two businesses relocated just outside the city limits to save money on taxes. One closed because the owner developed a serious illness. In a few cases, proprietors decided it felt like a good time to retire. Also, heavy rains the past two summers caused serious flooding downtown, which created mold problems in some of the buildings.
Christine won't discount the recession played a role in some of the business district vacancies, but thinks drawing a direct line of causation between the national economy and the local situation would only be half the story. In Rutland, unemployment is running around 8.7%, slightly below the national average, so it hasn't suffered like some areas of the country where joblessness has caused a loss in population. By contrast, in Millen, Georgia, where a number of local residents told me the community seemed on the verge of becoming a "ghost town," a halt in industry at the local industrial park had led to nearly 20% unemployment and an exodus of residents moving away in search of work elsewhere.
In Rutland, the flood of retail vacancies has created opportunity for one group of local artisans. In an initiative designed to revitalize shopping in the historic district, the Downtown Rutland Partnership gave its first entrepreneurial grant this summer. According to Mike Coppinger of the DRP, they had such an overwhelming and positive response to the inaugural grant that they're hoping to budget for another one next year.
Without the subsidization of one year free rent, artisans of the Catamount Crafters Cooperative don't know how they could have afforded to launch their business, particularly with the renovations they did at the outset. Now about four months into the venture, they've established a rhythm and presence that looks likely to carry them through once they start paying rent next summer.
At the age of seven, Sophia Noceti began to learn the craft of woodworking from her grandfather. She now creates cooking utensils and various tchotchkes in bright multi-colored wood sanded smooth as plastic.
Kara Soulia and her husband make animal treats and toys, as well as human consumables like jams, pickled veg, and candy. (Believe Kara when she warns you about the "Dark Matter" habanero candy. I had to nurse a cup of ice on my drive to New Hampshire after deciding to chew and swallow one just to get the heat out of my mouth. Ouch.)
Prior to establishment of the new co-op, Catamount artisans had lived a peripatetic existence of craft shows and special events. Sophia, one of the founding members, evinces pride when she tells me: "I haven't had a week yet that I haven't been paid."
The co-operative currently has eleven members displaying goods in the shop, with crafts including handmade jewelry, knitted baby clothes, caned chairs, chainsawed wood sculpture, paintings and photography. The business model projects basic expenses would require membership dues from thirteen crafters, but the retail space looks capable of holding even more.
Since opening in July, Kara says business "has been building every week. When holiday shopping ramps up, we'll do really well."