Will Work for Commercial Real Estate Financing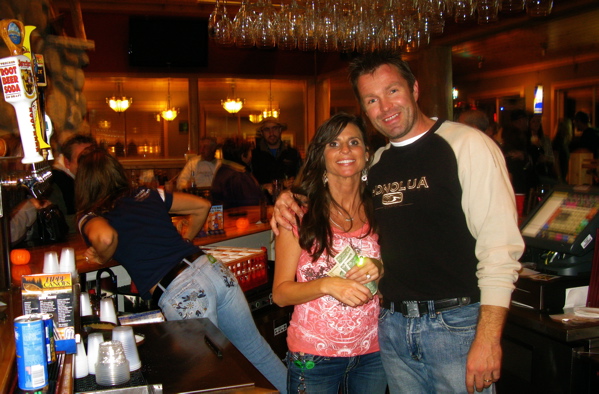 In nearly five months of driving highways and byways across the country, "Going Out of Business" signs have seemed a standard element of the modern American landscape. I barely notice them anymore, even those hued in sense-shocking shades of florescent with four-foot letters screaming "EVERYTHING MUST GO!". At the 243 T-junction entering Osceola, Wisconsin, I make an uncharacteristically complete stop as my mind demands processing time for the unusual sight of a "Grand Opening" banner.
The driver behind me breaks the moment with a perturbed bleat of car horn. Still unsure I'd read the sign correctly, I circle through a gas station parking lot and return to the intersection for a better look. Peering through the darkness, I look for the numbers 2009 on the "Oktoberfest & Grand Opening" advertisement of a local bar and restaurant called Tippy Canoes. My planned route turned south at Osceola, but plans change when there's a party to attend, so I head north to go find out how the owners have managed to launch such an endeavor under the current economic circumstances.
Pulling into the packed parking lot of Tippy Canoes, I can hear Duran Duran's "Hungry Like the Wolf" blasting from a canopy set up outside the restaurant. One minute wandering through the tent endows me with deep admiration for the local stock's endurance in bone-chilling cold, though the flowing kegs of beer and buckets of fire must help somewhat. Co-owner Allison Bahr is pouring drinks at the crowded bar inside, but I track down her affable Aussie husband of 13 years and new business partner, Rodney, who takes a break from chatting up guests to tell me their story.
Rodney opened a pizza place at age 16 in his small hometown down under, and Allison hails from a family of bar and grille owners. Together they've nurtured a dream to open their own place, as Rodney explains: "Allison and I have a long business background, we just thought that our energy, ambitions and positive effort would be best spent working self employed, rather than for some alternate entity."
The Bahrs began actively looking for a location to make their own two years ago before the recession had begun to really cripple commerce. They couldn't put their dream on hold simply because the larger economic landscape looked dismal, particularly not this summer after they assessed possibilities for the building now called Tippy Canoes, which had been empty for six months after the previous restaurant went out of business--a casualty of mismanagement more than anything else, according to Rodney. "We got what we felt was a great price, followed by great terms with minimal monies down, a building with huge growth potential in a sizeable and reputable town that needed a restaurant, followed by its location on a main highway of 12,000 cars per day and the fact that it was just one hour from the Twin Cities and located next to a hotel. We felt it was finally the right fit to put our blood, sweat and tears into."
The real estate investor who owns the site wanted to fully unload the property, but the current state of commercial credit blocked standard routes to financing the purchase, so the property owner offered to negotiate terms for a land contract. "He said it was a land contract, or nothing," Rodney recalls.
Land contracts are real estate transactions involving seller-based financing. The interest rates and payment schedule can be similar to a conventional loan, but the transaction doesn't require direct involvement of or approval from a financial institution. The seller holds onto the title for the contract's negotiated duration, but the buyer takes possession of the property, keeping to an agreed upon payment schedule until their debt is satisfied and they assume full legal ownership.
Also called a contract for deed or installment sales agreement, land contracts aren't unheard of, though they certainly aren't common practice. Legal requirements vary by state, and many such arrangements are not even officially recorded, which has made it difficult to determine whether or not seller-based financing is happening more frequently these days. Considering the tightening of the credit markets, however, I don't think it illogical to surmise that individuals and small businesses may be pursuing less conventional routes for financing.
Under the terms of their land contract, Rodney and Allison have an 18/18 three-year schedule until a balloon payment would be due to conclude the deal. This means they will again seek commercial financing after 18 months, but if it's unavailable, their arrangement with the seller continues. "My instinct is that things won't have recovered enough in 18 months," Rodney says. If after three years they still can't secure outside financing, they would be at a great disadvantage trying to negotiate terms of an extension with the deed holder. "We're in a hard economy, so we had to take that risk."
The Bahrs would be ecstatic about the way things have gone in the few weeks they've been open for business, if they weren't feeling squeezed by their electricity and gas providers, as Rodney explains: "So a total of $9200 is requested as security [deposits] for the large corporations, what about the little guy trying to aid in reviving the economy, now creating employment for 20+ people, do we get any security for our risk? I understand somewhat this rational, but only if we had already had late payments... Once again corporate America's stronghold will rule superior and will potentially be the demise, of any revitalizing of our economy. They are now also charging late payment fees on the balance of the unpaid security deposit. Must be nice to have the power, literally. So next time their service fails, do I get the right to charge for their shortfalls, loss of business? Dream on Mr. Small Proprietor!"
Despite the serious risks his family faces embarking on small business ownership during an era of economic turmoil, Rodney relishes the challenge and expresses a certain appreciation for the intangible benefits such hard times may effect in his adopted country. "We are all fortunate to live essentially in the Disneyland of the world and no matter how long this recession takes to level out, we have no right to complain about the predicament we are in," he says. "Hopefully we as individuals will get back to enjoying the true basics and essence of life, instead of being part of a rat race to keep up with the Joneses."