When Losing a Job Means Losing an Identity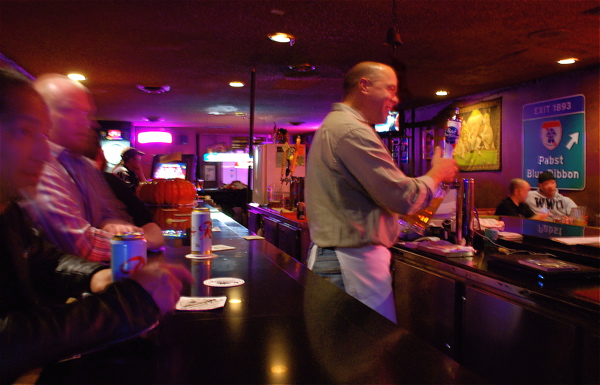 "I've always had an affection for divey little bars," Mike Lewis tells me. The first time he entered the Streamline Tavern, he came as a reporter on assignment for the Seattle Post-Intelligencer, writing a series called "Diving Lessons" about the characters who congregate in such places. Now he has become the starring character of the Streamline, having invested his P-I severance pay into buying part ownership of the classic Queene Anne's Hill establishment.
When the national economic downturn coincided with old media's pre-existing condition of fiscal vulnerability, a virtual hemorrhaging of the fourth estate erupted. Beginning soon after last Christmas, bulk emails would arrive in my inbox on a weekly basis, as one friend after another ruefully announced they'd joined the growing ranks of unemployed journalists.
In February, Denver's Rocky Mountain News halted operations entirely. A couple weeks later, the Seattle Post-Intelligencer announced it would cease to exist in newsprint form. While retaining a skeleton crew to generate online content for SeattlePI.com, 160 reporters, editors, designers, critics, and columnists lost their jobs.
Pundits have thoroughly dissected the slow downfall of print media, typically citing the availability of free newspapers on the Internet as sparking the bleed of subscription rolls, thus creating an increasing margin of unprofitable. More bitter media watchers blame blogs and online news aggregators for parasitically sucking content (and readers) away from the original creators.
Longtime Seattle P-I book critic, John Marshall, believes the most critical loss of revenue can be pinpointed with greater precision: "Craigslist is what killed the old media. That was the cash cow that drove old media, and now that cow is dead."
When I meet up with him for a wander through the University Farmer's Market, he admits solitude is the hardest thing about being unemployed. "There are some days when they only person I talk to is a barista at the coffee shop." He misses the camaraderie of the news room, and that sense of collective effort and accomplishment when a good issue closed.
These days John usually has to work alone, writing the occasional freelance piece for The Daily Beast or IndieReader.com. He also just began teaching a memoir-writing class at the Richard Hugo House, a literary community center. Marshall received a fairly sizeable severance package for the 26 years he invested in the P-I, and admits he won't start seriously worrying about his employment status until after the first of the year.
Only about a dozen of his former colleagues have secured full-time jobs since the March layoffs, so it doesn't seem like there are many opportunities available for people of his background and interests. Most are cobbling together a journalism-related career with two or three small jobs, he says, typically freelance writing, editing, or teaching.
At weekly coffee gatherings of former P-Iers, "People hardly even talk about trying to find jobs anymore," John says. "There's a tremendous amount of hopelessness and despair among those who thought they knew what they'd be doing for the rest of their lives. They wanted to go into journalism to make the world a better place, then you realize the world doesn't care."
Claudia Rowe, formerly the P-I's social issues reporter for six years, holds tight to the belief that her efforts can improve the world, and has the distinction of leaving journalism to discover a new way to satisfy that ambition.
"I am sort of stunned," Claudia admits. "I never could have envisioned leaving journalism. I had never done anything else. My identity is totally tied up in journalism. I was quite distraught through the summer, thinking 'How am I going to recreate my career.'"
Rather than recreating her journalism career, Claudia became a public information officer for the Marguerite Casey Foundation, an organization that supports grassroots and community efforts to empower the working poor. Now in her second week as an ex-hack turned flack, Claudia finds her new job "surprisingly gratifying and interesting."
"I've found out that the very things I'd been trying to do for 20 years, while very gratifying, I was less and less able to shine a light on social issues. This foundation provides another route to the same end."
With her new career, Claudia will be the primary breadwinner in her household for the moment. When P-I imploded--just a week before she gave birth, it should be noted--her husband, Dan Kearney, also lost his copyediting job.
In a sense, the layoff process introduced Dan to a new career path he might not have otherwise considered. As a member of the union team negotiating terms for severance packages, he was exposed to principles of contract law. Dan has now returned to school with a plan to become a lawyer, likely specializing in labor law.
Though Mike Lewis bought part ownership in the Streamline Tavern, he has no intention of leaving journalism. "This is just a holding pattern," he explains on a busy night at the Streamline. "I took my severance and turned it into a full-time minimum wage job."
His girlfriend and business partner, Mary, tends the bar while Mike and I chat over beers. A mix of old-time regulars and young hipsters crowd the room, dimly lit by neon beer signs. Mike jokes about their classic dive bar decor, pointing out the tapestry of dogs playing poker. Hanging nearby, illuminated in a pool of red light from a Budweiser-labeled neon guitar, I can see a framed advertisement from Mike's P-I days. "Seattle's Storyteller" it reads, next to a grinning picture of Mike.
After writing the "Diving Lessons" profile of the Streamline five years ago, the owner offered him a one-night-a-week shift working behind the bar. Mike didn't expect to tend bar for long, but the job was easy and fun, time passed quickly, and he eventually became a part of that character-rich tableau of the Streamline extended family.
A few months ago, when he learned the black cloud of foreclosure loomed over the Streamline, Mike decided he couldn't let some outside investor acquire the place and transform it into a trendy bar more in keeping with the rapidly gentrifying neighborhood.
To make the bargain-basement selling price, Mike recruited Mary, a longtime bartender at Seattle's famed Blue Moon Tavern, and two other partners with experience owning and/or running their own establishments. They just finalized the deal in August, but everything seems to be going well so far--aside from the plumbing. Fortunately, Mike has a plumber happy to work for beer.
Mike has been putting 50 to 60 hours a week into the Streamline, but plans to cut back once they get the place running smoothly and profitably. At this point, "I'm not sleeping much," he admits.
In addition to his work at the bar, three days a week he teaches a class on formal writing for ESL students at Seattle University. And to keep his anchor in the journalism world, Mike writes freelance when he can, and spends two days a week interning at NPR-affiliate KPLU. He accepted the unpaid position as a way to develop skills required in radio, particularly use of recording and editing equipment. Now that he has acquired a proficiency in radio journalism, he is working on a freelance arrangement so he can get paid for his efforts. Like many laid off reporters, Mike has trouble entertaining the idea of a life without journalism.
"I liked being a print reporter. It's what I always aspired to do. For me, working in media is almost an identity thing as much as an income thing. The day they announced the end of P-I, it was almost like losing a spouse."
After we finish our beers and I snap a few pictures, Mike walks me outside to point out the famed "It's in the P-I" sign. The overnight beacon of light from a 30-foot blue globe on top of the paper's headquarters has been an iconic symbol of the city for more than 50 years. I'd witnessed its blazing neon glory earlier in the evening, but when Mike gets to the vantage point, he looks puzzled. Someone had turned out the lights.
Mike shrugs, "I guess they're cutting back on the electric bill."