Residents Quietly Rejoice Local Foreclosure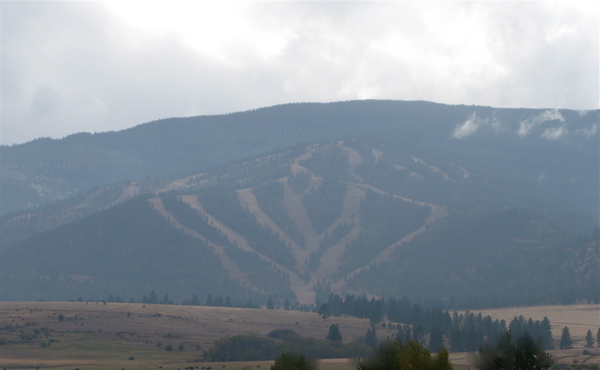 Tracts of pale amber grass run like jagged scars down the mountainside, cutting through spruce and fir forests that otherwise paint the landscape southwest of Lolo, Montana a deep shade of evergreen. Two weeks ago, creditors filed foreclosure papers against the project once touted to become the nation's largest ski resort. Though disinclined to take pleasure in a local family's misfortune, many residents of Lolo are quietly rejoicing at the failure of the Bitterroot Resort.
The Maclays have some of the deepest land-owning roots in western Montana, going back five generations to 1883 when the family first established a ranch in the Bitterroot Valley south of Missoula. As Tom Maclay, the force behind the Bitterroot Resort told The Missoulian when he first revealed his development plans in 2003: "It's not easy to think about this place as anything but a working ranch. There are a lot of Maclays whose blood, sweat and tears went into this soil. And that's not a small thing."
Through successive generations, the original Maclay domain has been divided and sub-divided, with portions occasionally sold off. If the foreclosure filing against Bitterroot Resort proceeds to its likely end, Tom Maclay's 3,000 acres will be taken over by Metropolitan Life Insurance Co. Asset Holdings LLC to satisfy a festering $19 million debt.
"Nope. I don't feel sorry for him one bit," one longtime resident says when I approach him in the parking lot of a local deli. "We didn't want it and he didn't give a damn. This isn't the perspective of poor folk resenting the wealthy local landowner. It's practicality. We didn't want the traffic, higher property taxes, expensive housing, and all the rich la-di-da yuppies that would have come with it. God bless this recession if it puts an end to that nightmare."
Most Lolo residents I speak to do not hesitate to offer their personal opinion, often a  reiteration of the above, though most decline to give their name. It's just not polite to be bad mouthing a local family or rejoicing in their sudden hardship. Unless you can do it anonymously.
Pam Lunceford has no such compunction, even spelling out her name to make sure I get it just right. She doesn't mind if Tom Maclay knows exactly how she feels about him. "That man should be in jail," she says matter-of-factly. "He cut down my trees. He cut down our trees. Trees that belonged to all Americans."
Pam doesn't refer to trees on Maclay's own property, but to those of the Lolo and Bitterroot National Forests. The ski runs he carved out of the thickly forested slopes on his own land are an eyesore, but Pam can't comprehend why Maclay wasn't charged with a federal offense for cutting down trees along an access road he expanded without permission from the US Forest Service. Maclay needed a wider passage to transport construction and snow-blowing equipment, for which he felled an estimated 400 trees on federal land, including a number of rare species of larch. The Forest Service filed civil suit over the action in 2006, which Maclay settled with a payment of $20,000.
Organized resistance to the Bitterroot Resort has been most vehement toward Maclay's intention to use thousands of acres of federally-owned wilderness adjacent to his own property as part of the overall development plan.
The original iteration requested the US Forest Service issue a special-use permit for Bitterroot Resort to develop more than 11,000 acres of federal property for cross-country and Nordic skiing, mountain biking trails and snow touring. After multiple rejections and revised applications, Maclay was finally awarded preliminary approval in December 2008 for the use of 3,000 acres.
That stage of approval represented only a partial green light. To further advance his pursuit of a special-use permit, Maclay next needed to submit a thorough financial statement to the Forest Service, which would have laid bare his accounting at a time when the credit markets were constricting worldwide. Lolo residents noticed a lull in activity emanating from the Bitterroot Resort this past year, and the foreclosure filings earlier this month seemed to have sparked a ripple of relief, though little surprise.
Of the more than dozen residents I speak to in the small town, I do manage to find one disappointed in the latest development. The aged gentleman wearing an odd dome-shaped cap and walking with a cane declines to give his name, though directs his harsh comments toward those opposed to the resort, rather than the man pushing its development.
"This is a liberal area," he says gruffly. "And they are somehow idiotically opposed to any kind of economic development." The man estimates the breakdown of community sentiment on the project to be roughly 50-50, though everyone else I encounter in Lolo suggests it's closer to 80-20 opposed.
"That was [name redacted]," Pam tells me a few minutes later. "He owns half this town so of course he wants the resort. That'd make him a lot of money."
A few people I meet in Lolo express a desire for economic development, though they categorically reject any notion that transforming the small town into a vacation destination would provide the answer. As Loloan Richard Parks explains: "The resort would mostly create low-wage jobs, but would also increase the cost of living and property taxes for everyone living here." He figures college students would probably make the 20-minute commute from Missoula to work at the resort and service-related businesses, while longtime residents would have to move because they couldn't afford to live there anymore.
Tom Maclay only has a few more days to respond to the foreclosure notice before a judge in Missoula District Court decides the next step for Bitterroot Resort. No one answered the resort's listed phone number or returned multiple messages. Either Maclay and his associates have withdrawn in grief or are frantically negotiating terms of a bailout with new financiers.
Around Lolo, most of the locals I meet assume--and, yes, cautiously hope--the next announcement will conclusively herald the demise of Bitterroot Resort. Even so, many say the community will long carry scars from Tom Maclay's folly of ambition. "Just look at that," one says, pointing to the forested mountainside riven by abandoned ski slopes. "The damage is already done."