Happy Ending for Homeless Family of Six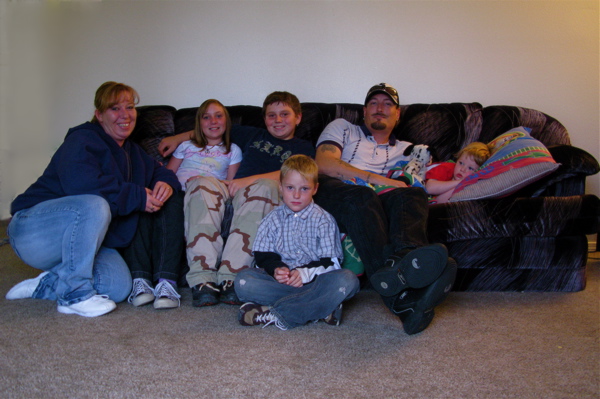 "Home," Crystal says, drawing one hand to her chest as the other catches a welling tear before it spills down her face. "Just speaking that word now is enough to make my heart flutter." After four months sleeping on fold-out cots and air mattresses at a succession of different churches, Crystal, husband Robert, and four children--aged four through thirteen--have finally found their way "home." Of course this story holds elements of heartbreak, exploitation, and outrage, though their own indelible recession memories will more likely recall fires of adversity forging familial bonds as strong as steel, and the boundless endurance and faith these times compelled them to discover within themselves.
Crystal and Robert Daneri could be considered refugees who fled the fall of Reno. As renters, they escaped the foreclosure epidemic claiming 28 of 30 houses on their street, but after layoffs hit their household, the skyrocketing cost of living reached unaffordable heights. Who can afford to pay $6 for a gallon for milk?
Robert is an independent software programmer and full-time dad, who was working to launch his own small business when he wasn't caring for their six children (four from Crystal's first marriage). For the past year-and-a-half he has been developing Dungeons and Dragons character management software, often doing his programming work between midnight and 4 am, the only quiet hours available in a full house of children. He and his two business partners tried to secure a loan for HeroForge Software LLC just as the national credit crunch dried up potential sources for financing, which means Robert will not earn income from his efforts until the product begins to sell.
In Reno, Crystal used to work for the type of business one might assume would flourish during an economic downturn: a "title loan company," in the formal nomenclature. "You'd really call them loan sharks," Crystal clarifies, explaining her employer would charge between 9.9% and 31% interest per day for short-term loans. Though not the most ennobling employment, it paid the rent on their 2000-square foot house and financed a comfortable standard of living.
In late 2007, as foreclosure signs began sprouting through Reno neighborhoods, the Nevada legislature passed measures to reign in predatory lending, particularly that of payday loan sharks like the one who employed Crystal. With his business practices constrained by the new law, he adapted to the reduced margins of profitability by laying off all his employees in June 2008.
For two months Crystal hunted for any kind of job, competing with increasing numbers of newly unemployed Reno residents scrambling to secure even the most menial paid work. Unable to pay their bills, a repo man eventually came for the family car.
Out of desperation, Crystal accepted a job working the nightshift, alone, at a Chevron station just off the interstate. Though she never had to face a demand for money with a gun in her face, the nightly news seemed to report an increasing frequency of armed robberies. "It was scary," she recalls. The time had come to leave Reno.
Robert's mother lives in Post Falls, Idaho, a small town about 20 miles east of Spokane, Washington. She loves time with her grandbabies, and her help with childcare would free up both Robert and Crystal to work until they recovered from an increasingly precarious financial situation.
A little online research turned up a help wanted ad for satellite installation, which both Robert and Crystal had experience doing. As an added incentive, the company offered use of a work truck for all employees, which would solve their transportation problems.
After reviewing resumes and interviewing them over the phone, the boss told them he'd have jobs waiting for them when they arrived in Idaho. "It took us three days to decide, execute the decision, pack, and drive to Idaho," Crystal recounts. Only one thing made the sudden move a painful decision--two of Crystal's children decided to stay behind in Reno with her ex-husband.
The Daneris arrived in Post Falls late one October night after a thirteen hour drive from Reno. "We're coming from a cement city in the middle of the desert. The kids woke up the first morning, looked out the windows and said: 'What's that on the mountains?," Crystal says. "They'd never seen mountains with trees before," Robert adds, laughing.
The first couple of days felt idyllic, until they went to claim their new jobs and were informed they'd have to provide their own truck since all the company vehicles were already in use. But they didn't even own a car, they explained, or money to finance the purchase of one. The response that garnered was along the lines of: "That's too bad. Come back when you do."
The few weeks they expected to crowd into Robert's mother's house stretched into months. In January, Crystal finally landed a job managing the Post Falls Jungle Pizza--a jungle-themed Chuck E Cheese-style joint.
One month later, their slow financial recovery hit a setback when 13-year-old Dakota suffered a heart attack during a strenuous workout at school. A heart murmur led to congenitive heart failure after a school coach challenged Dakota to push himself beyond his limits of exhaustion.
Aside from some lingering lethargy, Dakota recovered fairly well, and the family's finances had stabilized enough to start looking for their own housing. In fortunate happenstance, they learned a neighbor planned to move out of her rental house. The house's owner, Jaquie Sentio, came down from Montana to meet them, and they signed a lease to move in at the end of March. The $900 rent was above market rates for the area, but Jaquie said there'd be no negotiation on price because that's what she needed to make her mortgage.
The Daneris loved living in their new house for three whole days, until Jaquie served them with their first eviction notice, stating they had three days to move out. Though she had agreed via email that they could paid their rent every two weeks, rather than once a month, that arrangement technically put them in violation of the terms of their lease, which Jaquie decided gave her grounds for eviction.
The first notice wasn't official--just something Jaquie had made up on her computer--so the Daneris told her to pursue the eviction legally if she really wanted to try and oust them. A few days later, the police served a real eviction notice stipulating they had three days to either pay $900 or move out. It didn't seem to matter that they had already paid a half month's rent.
With no options but to pay the amount dictated by the eviction notice, they gave the landlord two checks for $450 each. Due to a bank error, one check bounced. Jaquie pretended to be understanding, telling them not to worry, the bank would fix the problem, which it did just after the first of the month.
The Daneris paid another $900 on May 1 to cover the full month's rent. They thought everything had been resolved, until May 7 when police arrived with a new eviction notice. At a May 10 hearing, the presiding judge ruled inadmissible any payments registered in May. The judge said it didn't matter they had emails proving Jaquie agreed to accept their rent in two payments, since that arrangement still violated terms of their lease. It didn't matter that they'd paid an additional $900 for April after the initial $450, since those were the terms of their first eviction notice. It didn't matter that the bank had corrected its error on the bounced check, since the fix came after May 1 and was, therefore, inadmissible. It didn't matter that they had just paid $900 rent for the month of May--the judge ruled they had 48 hours to vacate the premises.
On May 12, Crystal and Robert watched from his mother's porch as the town marshal arrived for a walk through to verify nothing had been damaged. As he drove away, Jaquie made a call on her cell phone. Within a minute, a U-Haul truck pulled up to the house. Word around the neighborhood is that the new tenants paid two months upfront, at a rate of $1200 a month, which saved Jaquie from defaulting on her mortgage. And, no, Jaquie did not refund the Daneris any money from their May rent. "We literally gave her every dollar we had," Crystal says.
To further complicate matters, when Robert's mother called her own landlord to confirm it would be okay if they stayed with her awhile longer, he responded that her lease stipulated the house was a single-family dwelling, not a single-extended-family dwelling.
So Crystal started calling emergency shelters and social service organizations. St. Vincent Depaul had space available, but they said the family would have to split up, with Robert taking the two older male children in the men's shelter and Crystal staying in the women's shelter with her daughter and youngest son. "With that, I lost it on the phone," Crystal remembers.
"It's very important for us to all stay together," Robert adds. "My promise to my family was not to allow us to be separated."
"There's one place in all of northern Idaho that has shelter for families, and that is Family Promise. They're truly a godsend," Crystal says. On the day of their eviction, the Family Promise van arrived to pick them up at Robert's mother's house. Crystal, Robert, Dakota (13), Marisa (11), Seth (6), and little Mason (3) each had one duffel bag and their own pillow.
Family Promise affiliates across the country organize coalitions of local churches to provide shelter for homeless families. Each church hosts the program for one week, so the families move on a weekly basis. The churches provide dinner, breakfast, and a safe place to sleep, though the families have to leave the premises during the day.
Family Promise in Post Falls can accept up to 15 people at a time, which usually means they'll have two or three families living together. "It's very much community living. You are not alone ever," Robert says. "It's best when you can form a bond with other families, working together to benefit each other." Some of the families in the program kept to themselves, but the Daneris did make some friendships that will long endure.
Robert and Crystal have endless praise for the Family Promise program and those who run it, though their experience with the host churches was not always entirely positive. "We met a lot of people with great intentions, but not a lot with great hearts," Crystal explains.
"You just lost everything you owned, and then you're under the microscope of all these different congregations," Robert adds.
Crystal continues, "When they're slopping the food on your plate, you can envision them holding a dinner party the next night, telling all their friends about how worthy they are for helping a homeless family. The number one question we got was: 'Do you have Jesus Christ in your life?'"
For months Robert wore long sleeves to cover the tattoos running up both arms, fearing the critical eye of their hosts. "I don't want to be judged by my appearance, I want to be judged by my merit. I'm a human being; I will not tolerate being looked down on."
Whenever they noticed condescending judgment from one of their hosts, rather than becoming angry and defensive, they would calmly discuss with the person how they arrived at their pre-conceived notions about the homeless. In most cases, the conversation would spark a revelation, and the Daneris would be given respect, rather than derision, from the individual.
One person they never had to convince of their self-worth was Pastor Sante of the 7th Day Adventists in Post Falls. "The first thing he said to us was how impressed he was with us getting up early to cook for our kids on a Saturday morning," Robert recalls.
Pastor Sante constantly expressed admiration for their self-discipline under such difficult circumstances, particularly how they maintained order with their children. Sante's encouragement gave them strength to persevere, particularly when the pastor would tell them how much they inspired him. "We believe in God, but don't ascribe to organized religion," Robert explains. "But Pastor Sante is our personal spiritual guide now."
"Pastor Sante is a direct conduit to God," Crystal adds for emphasis.
Even more than spiritual help, Pastor Sante gave them practical assistance, helping arrange financing for a used car, which he even secured with his own promissory note.
The Daneris wish they could personally thank the four donors who paid for the security deposit on their new apartment, but Family Promise has respected the benefactors' request for anonymity. The Department of Health and Welfare contributed enough for one month's rent, and the Northern Idaho Workforce Training Center, where Crystal just began a 6-week CNA training program, kicked in enough to give them a second month of security.
That's more assistance than most homeless families could hope for, but Robert theorizes they've been treated generously because they developed a reputation for never seeking any aid they didn't actually need. "We were never looking for handouts, only a hand up. If we were told to go file for some assistance program we didn't actually need, we would refuse. I'm not going to claim resources for myself when that could take away from someone who needs it. When we were given clothes for the kids, we actually gave back more than we received because we had so much they'd grown out of."
Since her certification program to become a nurse's aide began on October 2, Crystal has been attending school four nights a week, while still putting in 35-40 hours at Jungle Pizza. She worries that Jungle Pizza may become another victim of the recession, though her concern is more for the beloved owner than her own job. She already has a couple of employment opportunities to seize when she finishes her CNA program in mid-November. In the Spring, she will continue to advance her nursing education, and should become an RN within a couple of years.
Crystal had never considered nursing as a career before, "but coming from this point where we needed such compassion, I felt like I wanted to provide compassion for the general public." Also, she continues, nursing will provide job stability for life. "It has the biggest job demand in northern Idaho," Robert adds.
Robert's software company is opening a new chapter that will hopefully lead to even greater financial security for the family. HeroForge finally completed the development and beta-testing phases of his Dungeons and Dragons character management software, making trial versions available for download last week. More than five hundred copies have been downloaded so far.
On any given day, roughly 3 million Americans play D&D online. Worldwide, D&D gamers number 300 million. Even a small fraction of that target audience could make up for his two years of full-time unpaid work.
Despite everything they've been going through, Crystal and Robert evince pride the kids are doing so well in school. When Dakota, Marisa and Seth arrive home in a jumble of backpacks and excitement, each one has good news to share--a perfect score on a spelling test, a student of the week award. Seth is most excited to tell me about an imminent biological achievement--he is about to turn seven. The stack of invitations sitting on the kitchen table foretell a memorable celebration, with cards already labeled for every kid in his class, plus a few friends he made in the Family Promise program.
The children adapted well to their constantly uncertain circumstances, though Crystal and Robert have noticed some residual effects of the journey through homelessness. Little Mason, who's not quite four yet, doesn't seem to understand the concept of this new place called home they've been living in for nearly two weeks. After four months of rotating to a different church every week, Mason keeps asking when they're moving. "Sometimes if we're driving past a church he recognizes, he'll ask: 'We go dat church tonight?,' or point and say, 'My room dere.'"
As for the older children, "When we first moved into the apartment," Crystal says, "it was like the kids had forgotten how to play."
"In Family Promise, the rules are that a child can never be left unattended. So, except during school hours, they'd been literally at our side for almost four months," Robert adds.
"The first time we told them to go out and play," Crystal continues. "It was like they didn't know what to do. It took them twenty minutes just to make their way down the stairs. I am not kidding you." While I'm there, however, Seth can't stop yelling about how he wants to jump off the (second story) balcony again.
Crystal's two children who chose to stay in Reno have been begging to move to Idaho since hearing about the green trees, rivers, lakes, fishing, swimming, and enough outdoor adventure to charge their young imaginations. "It just breaks my heart I haven't seen them in a year," she says.  Now that their situation is beginning to stabilize, Crystal hopes to arrange for their northward move soon.
So that's the happy ending to the Daneri's story. I've done my part to relate their struggles and triumphs as accurately as the English language would allow, but there remain things to be said before drawing this piece to a close.
Crystal and Robert had much they wanted to express, in hopes their knowledge and experience can help inform the American public about the reality of homelessness, most particularly during this recession. So from this point forward, I surrender fully to their voices.
Crystal: "People who haven't really been affected by the recession don't really understand the lives of those who have been. In homelessness, everything--from the minute you wake up in the morning until the minute you go to sleep at night--is a bridge to cross. Everything is a battle.
"And you're so low. Self-esteem is non-existent. You look at your children and get so depressed they're in this situation with you.
"One thing I hope Americans can learn through this recession is an understanding of what homelessness really is. Do you picture the guy on the corner begging for money, who will probably go spend it on alcohol? Or do you picture your next door neighbor? Because these days, it's your neighbor, your friends, your family, the people in your community."
Robert: "My very first thought [when we became homeless] was how we would be looked at as a family in this situation. Now we've gone from the deepest darkest dumps you could be in to regaining faith in ourselves. It comes down to you having to fight to get yourself out of that place."
Crystal: "And it's a hard, hard, hard place to come back from. And exhausting."
Robert: "All the odds are against you, but it can be done. Just never give up. Never give up."
Crystal: "We've been able to re-build our lives from the ground up. I've never felt more at home than I do right now. We're cramped, crowded, living on top of each other, but we're so happy.
"And we're actually glad the kids have had this experience. It used to all be about the Playstation 3, or the TV, cable, stereos. It was gimme, gimme, gimme, gimme. Well, gimme done died. We always taught that the material things aren't important, but now they've actually learned through experience. They've learned not to take anything for granted. As they get older, this is a lesson they will take with them."
Robert: "It's about faith and family, not material goods. As long as I have my family, I'll have everything I need in life.
"Americans need to be educated on the true bottom line of homelessness. Not every homeless person does drugs. Not every one is an alcoholic, or crazy, or homeless by choice. Your children are going to school with homeless children and you don't even know it.
"Policy affecting the homeless is made by the wealthy and implemented by the middle class, but neither understand the life of the poor."